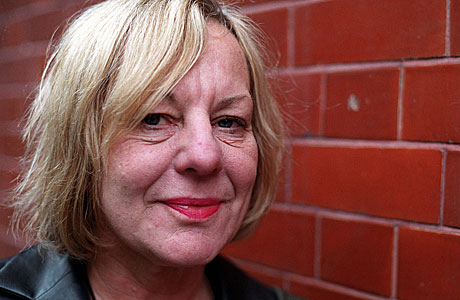 True Anglophiles will either already have an idea who Adrian Mole is, or will have an enormous treat ahead of them when they find out. Whereas anyone who lived in Britain during the '80s and '90s will already know, and will be saddened by the news that his creator, Sue Townsend, has died at the age of 68.
By no means her sole achievement as a writer, the comic diaries of the pompous, naive Adrian Mole—starting with The Secret Diary of Adrian Mole, aged 13¾ in 1982— are her most celebrated works, eight volumes that count as an alternative social history of England, in which a young man of ordinary means grows up in politically charged times, influenced by old politics and new politics and his own natural tendency to be something of a prig, dreaming of literary talent and greatness.
They're wickedly funny too, I might add, and written as much for adults struggling to understand their exasperating progeny as teenagers struggling with their own angst. The first two Adrian Mole books made her the best-selling novelist of the 1980s in Britain. And several of her books, including the equally popular The Queen and I, were adapted for radio, stage and screen.
Adrian Mole: The Prostrate Years—his final literary outing—came out in 2009, by which time the character had grown up, written an unpublished novel Lo! The Flat Hills of My Homeland, and a sitcom script about a serial killer who drives a white van. Neither were ever commissioned. He also embarked on a career as a TV chef, specialising in the preparation of offal for a spoof show called Offally Good! Again, nothing much comes of it, and he ends up working in an antiquarian bookshop and watching the pennies.
Two TV adaptations were made of the Adrian Mole books. One in 1987, focussing on his boyhood years, and featuring Julie Walters (and yes, doesn't Adrian look like Harry Potter):
And Adrian Mole: The Cappucino Years in 2001, starring Stephen Mangan and Helen Baxendale:
Stephen Mangan told BBC Radio 4: "There was something really special about Sue. She was a hero of mine when I read the books as an adolescent – I was pretty much the same age as Adrian – but when I met her I just fell in love with her really.
"She was warm, she was funny, she was self-deprecating. She was incredibly encouraging."
And JK Rowling had this to say on Twitter:
So sad to hear about Sue Townsend. She gave me so many laughs. #AdrianMoleWillLiveForever

— J.K. Rowling (@jk_rowling) April 11, 2014
David Walliams was equally vocal in his praise:
Sue Townsend was a comedy genius & wrote some of the funniest books of all time. A lovely lady too- http://t.co/hd5nVO9TcY

— David Walliams (@davidwalliams) April 11, 2014
See more: 
The Five Most Angst-Ridden British Teenagers Ever
10 British Children's Books That Every Older American Kid Should Read
WATCH: Stephen Mangan Stars In 'The Hunt For Tony Blair'
UK Stars Who Could Replace Charlie Sheen on 'Two and a Half Men'
Read More
Filed Under: