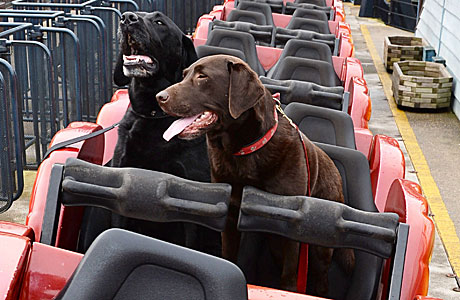 Today, as we all know, is March 32nd. HAHA! April FOOL! You should see your face! Priceless!
No, but seriously it's April 1st. All over the internet, trusted news providers have taken a moment to come up with a hoax story or two for April Fool's Day.
Here's a roundup of some of the best ones (or worst, depending on your tolerance for pranks and general hijinks).
• Dogs are to be welcomed on the rides at Thorpe Park.
• And on a similar note, here's a thrilling addition to London's Docklands Light Railway:
Announcing Canary Wharf's new loop-the-loop! @DLRLondon – making the London commute more fun since 1987. pic.twitter.com/89xWKgS2d6

— DLR London (@DLRLondon) April 1, 2014
• The website for CERN, the European Organization for Nuclear Research who brought you the Large Hadron Collider, has announced that henceforth its principal font will be Comic Sans.
• Avril Poole (hem hem) reports for BT.com that Coronation Street is in danger of vanishing down a ten-foot sinkhole.
• Reddit have plans to expand your mind:
• Lego Minifigs have invaded the offices of the Girl Guides.
• In North Korea, Kim Jong-Un has launched plans for an X Factor-style talent show, in which he is the sole judge, and they aim to find a new group called Un Direction.
• The Mirror has the scoop on some newly-bred six-legged lambs, so that there's more meat to go around.
• Google is recruiting:
Google @Pokemon Master needed. Inquire within. http://t.co/IKZMjGcBiF

— Google Maps (@googlemaps) April 1, 2014
• Metro claims that the British government is banning selfies.
• The Cornish Guardian says the European Union will force everyone in Cornwall to speak Cornish as their sole language (note: some pranks are more like fervent wishes).
• ITN reports that chickens in Suffolk are now laying square eggs:
Live at a farm in Suffolk reporting on the chicken laying SQUARE eggs. @Daybreak 0720 pic.twitter.com/71WXpIz2nN

— Nick Dixon (@NickDixon8) April 1, 2014
• A Devon farmer claims to have grown Guinness-flavored potato chips.
• The Guardian reports that Scotland—genuinely about to vote on independence from the rest of the U.K.—will adopt driving on the right hand side of the road if they become independent.
• And finally, a new species of aquatic mammal has been identified: the manaphin – part manatee, part dolphin. It even has its own website.
Now, let us never speak of these preposterous events again…
See more: 
10 Inventive British Pranks: Inspiration for April Fool's Day
The Best Of The Morning's April Fool's Day Gags (2013)
Today's UK Twitter Trends (April 1, 2011): April Fool's Day
Read More
Filed Under: