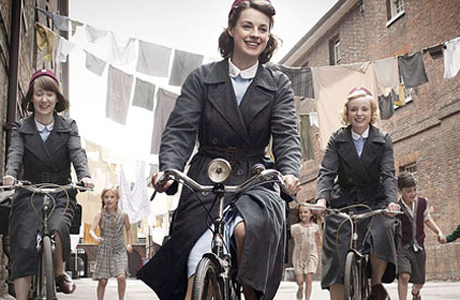 Let's get the really big news out of the way first: Midwife Trixie Franklin (Helen George) models a new pixie haircut in the second episode of Season 3. She says she was inspired to adopt the 'do after seeing actress Jean Seberg's similar style in "The Mouse That Roared," a hit British movie of 1959. And very fetching the new look is on Nonnatus House's resident sexpot.
Nonnatus House head nun Sister Julienne (Jenny Agutter) promotes midwife Jenny Lee (Jessica Raine) to senior nurse at the clinic. A passed over Trixie immediately gets her nose out of joint, given that she has been at Nonnatus House longer, and goes into a prolonged sulk.
Jenny gets all obnoxiously officious. "It's going to be a tight ship from now on," she proclaims.
"I rather preferred the loose one," Trixie mutters under her breath. She spends much of the rest of the episode amusingly getting in little digs at Jenny.
The episode features two major storylines, both involving–big surprise!–women having babies and the midwives and nuns helping them to deliver and take care of their infants.
We were introduced to Doris Aston (Seline Hizli), a pregnant hairdresser who lives with her husband and threes young sons in the East End. In addition to her female clients (it's thanks to Doris that Trixie's a blond), Doris has male customers as well, a fact that doesn't sit well with her working bloke hubby.
 Doris seems nervous about her pregnancy and jumpy around her husband and it takes a while before she tells Jenny that the baby she's expecting 1) isn't her husband's, and 2) is the result of a brief liaison with a black client. There's no way her husband will believe the child is his and Doris insists that he must never see it once the baby is born. "He'd kill me if I went with any other fellow," she says. (Fans of the show may remember a similar storyline during the first season, though in that case the new mother's husband happily accepted the child.)
The other major storyline of the episode involves midwife Cynthia Miller (Bryony Hannah). She gets seriously excited upon hearing a lecture by Dr. Robert Latham (Roger Morlidge), who advocates women using breathing exercises during labor to ease pain rather than resorting to gas. (French doctor Fernand Lamaze developed the Lamaze Technique, which is pretty much what Dr. Latham is pushing, in the 1940s.)
Cynthia teaches the technique to a class full of expectant mothers and then takes the exercises from the classroom to the delivery room when Nellie Short (Faye Daveney), a very young and very nervous redhead, is giving birth to her first child. Sister Evangelina (Pam Ferris), who is helping with the labor, has her doubts. "If you're suggesting that a few deep breaths and not thinking about what's for dinner is all there is to labor, you're leading your patients up the fairy way," she grouses.
The perpetually gruff Sister Evangelina comes round, however, when Nellie delivers the baby safely. "I never thought I'd say this but I'm glad you didn't listen to me," she tells Cynthia. "You did it your own way, a new way, and you were right to."
Jenny has made arrangements for Doris to be away from home for her delivery, thereby enabling her to give the baby up for adoption without her husband knowing. But the baby arrives early and Doris' husband comes home and sees that the little girl isn't his. He declares his wife a "whore" and worse but, fortunately, Dr. Patrick Turner (Stephen McGann) arrives at that moment and kicks the angry husband out of the house to cool down.
Doris bonds with her daughter, naming her Carol, but all too soon Jenny gently takes the little baby out of Doris' arms and hands her to Dr. Turner. He and his wife, Shelagh (Laura Main), care for the infant until a permanent adoptive home can be found for her. "I want the next baby I hold to be ours," Shelagh tells her husband.
Doris continues to grieve for the daughter she has given up though her young sons, who've been told that the baby died, try to comfort her. Eventually, she writes a letter to little Carol, explaining why she had to give her up, and asks Jenny to please give it to the baby for her to read when she gets older.
Little Carol is adopted by a couple who've requested no contact with the biological mother so the social worker handling the adoption says she can't accept Doris' letter from Jenny. Sister Julienne tells Jenny that they'll keep the letter at Nonnatus House. "Sometimes the act of letter writing is as important as the receipt of the letter. If Carol needs to hear those words, she will find us," the wise nun says.
Jenny visits Doris, helping her to venture out into the neighborhood and get on with her life. Doris will stay with her husband and sons in the East End, nursing hopes that the daughter she gave up will have a happy life and someday understand her birth mother's sacrifice. And Jenny and the other midwives and nuns at Nonnatus House will be there to support her.
Other minor notes: Jenny continues to see Alec Jesmond (Leo Staar), her architect beau. In this episode, we learn that he's active in the Ban the Bomb movement and that he's totally smitten with our midwife heroine. "All I care about is you," he declares to her.
Dotty Sister Monica Joan (Judy Parfitt) makes like Madame Defarge, knitting away noisily while Dr. Latham delivers his lecture on breathing techniques.
Chummy Noakes (Miranda Hart) announces, "One can never have enough knitting," but then rethinks her pronouncement when she sees that someone (Sister Monica Joan?) has knit a little fetus doll that tucks into a woolen womb.
Trixie, doing her best to ignore Jenny before they eventually bury the hatchet, pretends to be absorbed in reading a hardback copy of Breakfast at Tiffany's when Jenny attempts to talk with her. The Truman Capote novella about Holly Golightly was first published in 1958. It's this kind of perfect period detail that makes Call the Midwifesuch fun.
Did you like this episode?
See More:
'Call the Midwife' Recaps for Season One and Two
What's in Store for the Cast of 'Call the Midwife'?
'Call The Midwife's Jessica Raine: "'Doctor Who' Is Magical"

Read More
Filed Under: