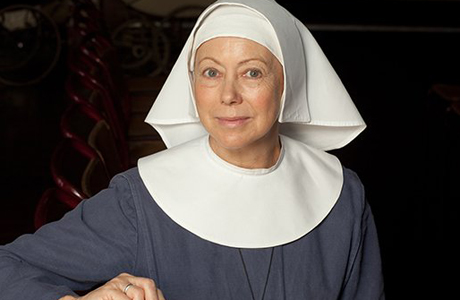 Call the Midwife made a blatant play for ratings in its third episode of Season 3, featuring women in prison scenes and girl-on-girl fighting. What's next? Nuns with guns at Nonnatus House?
Of course, the scenes were tastefully done and served a higher, inspirational purpose. Fans would expect nothing less of the show.
Sister Julienne (Jenny Agutter) and midwife Trixie Franklin (Helen George) visit the local women's hoosegow when the regular midwife there comes down with influenza. A young pregnant inmate, Stella Crangle (Lacey Turner, an EastEnders vet), makes a particular impression on the pair. Stella, an orphan who has grown up knowing only tough times, says her fiancé is off on a merchant ship but coming home soon. She's in jail on a charge of petty thievery and is due out soon but is afraid that the authorities will take her baby and put him up for adoption.
This is where the girl fighting comes in. Another inmate, a hardened prostitute, has it in for Stella and rags on her constantly. She attacks Stella and the two begin brawling as a horrified Sister Julienne and Trixie look on. The fight, along with the fact that Stella's fiancé turns out to be fictitious, make it all but certain that the authorities will take her infant son away after Sister Julienne and Trixie help her deliver.
All's well that ends well, however, with Sister Julienne going the extra mile to help the young woman keep her baby. The head nun testifies on Stella's behalf at a custody hearing and finds a job and housing for the young woman upon her release from jail. There are smiles all around, including from the tough prison matron, at the happy outcome.
It is also Chummy Noakes' (Miranda Hart) birthday and fellow midwives Trixie, Jenny Lee (Jessica Raine), Cynthia Miller (Bryony Hannah) celebrate by heading off to see the hit musical, My Fair Lady, on London's West End. At least that's the plan. It turns out that Fred Buckle (Cliff Parisi), the handyman at Nonnatus House, had been duped into buying el cheapo counterfeit tickets, which he'd in turn sold to the midwives. Upon being turned away at the door, Chummy and her policeman hubby Peter (Ben Caplan), Jenny's beau, Alec Jesmond (Leo Staar) and the girls all happily troop over to a nearby pub for a convivial pint and a round of darts. (Chummy turns out to be a darts star!)
Before discovering that their tickets were bogus, Chummy and chums gather in the theater's lobby. Chummy notes that Trixie seems downcast rather than her usual flirtatious self. Trixie says it's because she's weighed down by concerns for Stella and the other inmates and feels that the babies born behind bars have no chance in life. Chummy delivers a pep talk. "We see heartbreak all the time," she tells Trixie, "but we can't afford to dwell on it." Mission accomplished. Trixie brightens up immediately.
Elsewhere in the episode:
Shelagh Turner (Laura Main), the former nun who wed Dr. Patrick Turner (Stephen McGann) last season, is worried that she's gone three months without her period but is not pregnant. She undergoes exploratory surgery, which reveals there's scarring throughout her pelvic organs from her bout with TB (tuberculosis) last season. There will be no babies. When she tearfully tells her husband that she's sorry, he consoles her, saying, "Don't say that. So many dreams came true."
Alec declares to Jenny that he's in love with her. She reacts like a scared rabbit, pretending that she doesn't hear and certainly not reciprocating with her own three little words. "I'm young. I don't want to get married and have children yet," she later tells Cynthia.
Trixie brings home some nasty escapees from the women's prison: lice. "From now on, I'm wearing a wimple when I go there," she tells Sister Winifred (Victoria Yeates), as the new nun at Nonnatus House combs through Trixie's hear and picks the nits out.
Displaying a wicked sense of humor, Sister Winifred says, "I'll fetch you some olive oil and a shower cap. Unless you preferred it if I shaved your head completely." Sexpot Trixie is horrified at the offer. (Later, an unhappy looking Jenny and Cynthia also undergo the olive oil and shower cap treatment, since they share close quarters with Trixie.)
And, finally, it's Sister Evangelina (Pam Ferris) to the rescue. Spotting the con artist couple that sold Fred the counterfeit tickets as they attempt to lure new, unsuspecting customers, the pugnacious nun sidles up to them and asks, "May I have a word?" Cut to a shot of her giving Fred his money back.
What was your favorite part of the episode?
See More:
'Call the Midwife' Recaps for Season One and Two
What's in Store for the Cast of 'Call the Midwife'?
'Call The Midwife's Jessica Raine: "'Doctor Who' Is Magical"
Read More
Filed Under: