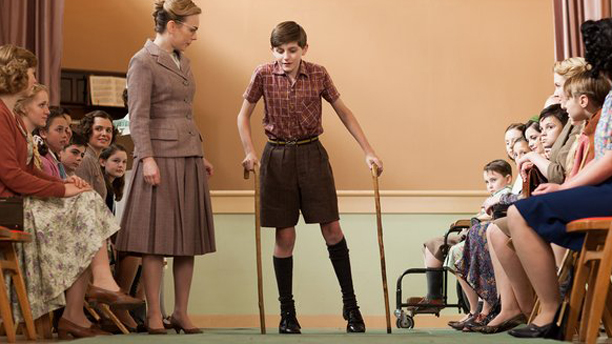 Years ago, there was a drinking game inspired by The Bob Newhart Show (1972-78). Every time a character on the sitcom greeted its eponymous star with a cheery, "Hi, Bob," viewers had to take a sip from their beers. There should be a similar game for Call the Midwife; every time that midwife Chummy Noakes (Miranda Hart) enthusiastically pronounces that everything's "tickety-boo," viewers must swig their beverage of choice.
There was only one "tickety-boo" from Chummy in the latest episode of the British series (Ep. 5 of Season 3). After finishing a check-up on a young, pregnant patient with Down syndrome, Chummy pronounced Sally Harper's (Sarah Gordy, who was on the recent BBC revival of Upstairs Downstairs) condition as "tickety-boo."
Sally's pregnancy was part of a moving storyline about the disabled. It brought the midwives and nuns of Nonnatus House back in contact with St. Gideon's, a home for the disabled presided over by a benevolent and relative progressive matron, Miss Molyneux (Rosiland March). The home, along with one of its residents, Jacob Milligan (Colin Young), had been featured in an earlier episode during Season 2.
When it's discovered that Sally is pregnant, her parents are upset and remove her from St. Gideon's. It is eventually revealed that Jacob is the father and that the two young people are in love. "There's a part of me that you can't see but she can," Jacob says of Sally.
Attitudes toward the rights of the disabled being what they are in the late 1950s–Dr. Patrick Turner (Stephen McGann) at first refers to Sally as a "Mongoloid"–there is no possibility that the two will be allowed to wed and cohabitate.
Sally's baby, delivered by Chummy and fellow midwife Cynthia Miller (Bryony Hannah), is stillborn. She's allowed to return to St. Gideon's, which she considers her home, but Jacob is banished to an institution housing only men. He leaves Sally a parting gift of a bright red cardigan sweater and a note declaring his love.
The importance of love, both familial and romantic, is the underlying theme of the episode. Sally's mother, Mrs. Harper (Debra Gillett), wonders if Sally turned to Jacob because her parents didn't tell her often enough that they loved her. Chummy and her policeman hubby, Peter Noakes (Ben Caplan), overcome routine marital frustrations about conflicting schedules to gaze meaningfully into each other's eyes. Additionally, after returning home from delivering Sally's dead baby, Chummy rouses her own infant son from sleep to give him a big smooch. "I want to kiss him so he knows how much he is loved," she tells Peter, who looks on approvingly.
And Sister Evangelina (Pam Ferris), who is celebrating the 25th anniversary of taking her vows, reunites and reconciles with an estranged alcoholic brother (whose existence she had long kept secret from her fellow nuns). With the help of his Sister sister and Dr. Turner, the brother sobers up long enough to be among the many guests at the episode-ending fete marking Sister Evangelina's Jubilee. (We also learn in this episode that Sister E.'s name before she became a nun was Enid.)
In other developments:
Two promising new characters move into Nonnatus House: midwife Patricia "Patsy" Mount (Emerald Fennell) and curate Tom Hereward (Jack Ashton). Patsy, a whirlwind of competent efficiency, immediately bonds with the other midwives. She also utters the best line ever in the series when, looking at an illustration in a cookbook for a dessert concoction known as Bananas Coronet, she blurts out, "It looks like Stonehenge only with penises." She quickly apologizes, explaining, "Three years on male surgical [duty] have rather made their mark."
As for the exceedingly cute Hereward, who popped up briefly in two earlier episodes this season, he brings a welcome dose of testosterone to Nonnatus House. In his biggest scene so far, he pleads with Mrs. Molyneux not to banish Jacob to an all-male institution and she chidingly responds that it must be nice to be as young and idealistic but they have to deal in reality.
Midwife Trixie Franklin (Helen George), always up on the latest trends, displays impressive skills with a Hula Hoop (which was first marketed in 1958).
Shelagh Turner (Laura Main) is overly protective of her stepson, Timothy Turner (Max Macmillan), who wears braces on his legs after contracting polio last season. Her husband, Dr. Turner, insists that his son needs to "spread his wings," and during the course of the episode, Timothy does just that, playing cricket with other children and, eventually, discarding his leg braces.
Shelagh confides to Sister Evangelina that she's afraid of loving Timothy too much. The nun, striking the major chord of the episode, responds, "It's impossible to love too much."
And what of midwife Jenny Lee (Jessica Raine) and Sister Julienne (Jenny Agutter)? Both were mostly MIA. The former is still at the Mother House retreat, where she's mourning the tragic death of her beau, Alec Jesmond, in the previous episode. (Her midwife and nun friends regularly send her care packages, though Sister Monica Joan takes a slice out of a cake before mailing it.) As for Sister Julienne, she faints from exhaustion early in the episode and is sent off to recover, returning only in time for Sister Evangelina's Jubilee wing-ding.
What was your favorite part of this episode of Call the Midwife?
See More:
'Call the Midwife' Recaps for Season One and Two
What's in Store for the Cast of 'Call the Midwife'?
'Call The Midwife's Jessica Raine: "'Doctor Who' Is Magical"
Read More
Filed Under: