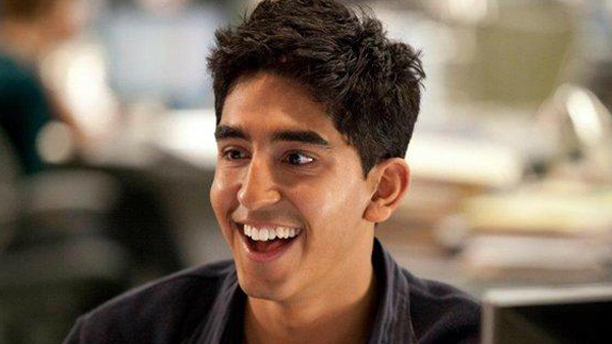 Join us in singing a noisy chorus of "Happy Birthday" to London-born actor Dev Patel, who reaches the advanced age of 24 today (April 23).
But don't expect him to join in serenading himself. As Patel once said, "I'm tone deaf – window-shattering tone deaf. I can't sing for the life of me."
The young star rose to fame in the lead role in his first movie, Slumdog Millionaire, in 2008. He was cast by filmmaker Danny Boyle after the English director's teenage daughter suggested to her father that he audition Patel, whom she'd been a fan of for his only other acting job, as a regular on the racy, British TV teen drama, Skins.
In this 2009 clip, Patel discusses being naked on Skins with BBC talk show host Jonathan Ross:
Slumdog Millionaire, a drama about a poor youth who places first on an Indian TV quiz show, became a worldwide hit and went to win the Academy Award for Best Picture. Patel was nominated for a BAFTA award for his role and, along with his fellow castmates, took home a Screen Actors Guild award for Best Ensemble.
Slumdog also brought him together with co-star Freida Pinto, with whom he has been keeping romantic company ever since.
In the years since Slumdog, Patel has starred in such films as The Last Airbender (2010) and The Best Exotic Marigold Hotel (2011), as well as on HBO's The Newsroom. Nearly as busy as Benedict Cumberbatch, he has another four films in the can awaiting release, including a sequel to Exotic Marigold Hotel that's due next March.
And if all that weren't enough, Patel currently is hard at work shooting Chappie, a film costarring Hugh Jackman and Sigourney Weaver and directed by Neill Blomkamp (District 9).
Not bad for a guy who has yet to reach the quarter century mark.
Are you a Dev Patel fan?  
See More:
'Skins': Where Are They Now?
Freida Pinto Wants On-screen Reunion with Off-screen Beau, Dev Patel
Why Skins' Dev Patel Kept 'Slumdog' Romance Private
Read More
Filed Under: