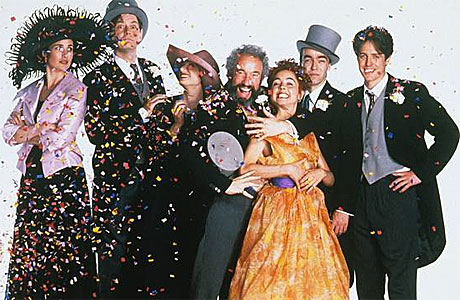 Tomorrow, if you can believe it, it has been 20 years since Hugh Grant first stammered into our lives, with the U.S. release of Four Weddings and a Funeral. That's 20 years of rom-coms with swearing in, 20 years of people acting charmingly befuddled in order to spell out their feelings, 20 years of interesting devices to get the hero and heroine to admit their feelings—like a church confrontation spelled out using sign language—and 20 years to get to know this adorable movie.
And it's fair to say everyone involved in the movie benefited from the hit it became. Careers were made, and rightly so. So here's what the gang got up to once the champagne and confetti were all cleared away. With a special honorable mention for the great Charlotte Coleman (Scarlett), who died in 2001 from an asthma attack.
Hugh Grant (Charles)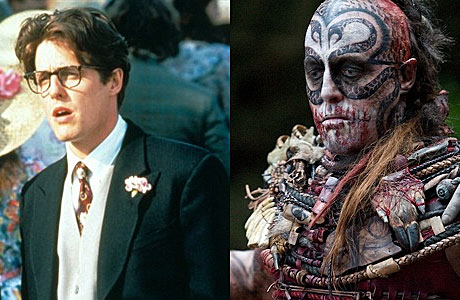 What's he doing now? First he was a charmingly befuddled leading man, but Hugh's stock in trade of recent years has become charming rotters, like Daniel Cleaver in the Bridget Jones movies. He's been very active leading the charge against the intrusions of the media, looked a fright in Cloud Atlas, and can be seen later this year as a former Hollywood screenwriter-turned-teacher in The Rewrite, and next year in The Man From U.N.C.L.E.
James Fleet (Tom)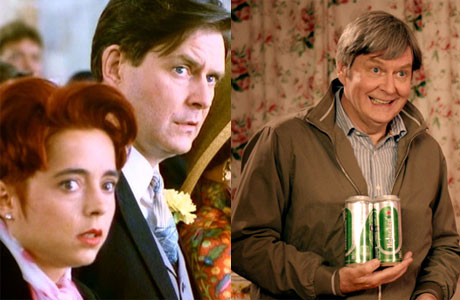 What's he doing now? As long as there's a demand for an upper-class twit with a shy smile, James Fleet will never be short of work. Last year he appeared in three productions with ominous titles: Death Comes To Pemberley, Death In Paradise and Murder On The Homefront, as well as episodes of Blandings and Father Brown. And you can never rule out another Vicar of Dibley reunion either.
Simon Callow (Gareth)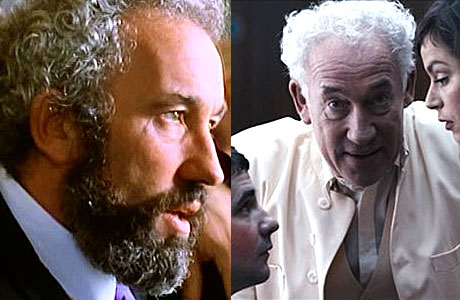 What's he doing now? Simon recently rejoined James in an episode of the STARZ time travel drama Outlander, another historical role to add to his impressive resume that includes recent movies such as Acts of Godfrey, appearances in TV shows such as Doctor Who, The Sarah Jane Adventures and numerous stage roles. Simon will soon be appearing in the love triangle movie Creditors.
John Hannah (Matthew)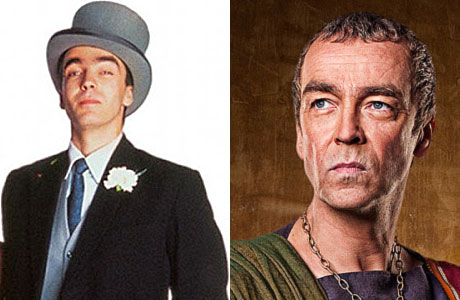 What's he doing now? John's devastating reading of the WH Auden poem Funeral Blues in Four Weddings transformed his career almost overnight, and he has proved to be a reliable screen presence in all manner of situations. An adept comic foil for action movies, he starred in The Mummy series, and was a malevolent presence in Spartacus. He even sent up his own past in TV detective procedurals in last year's spoof A Touch Of Cloth. See him later this year in Kickback, Still Waters and Shooting for Socrates.
Kristin Scott Thomas (Fiona)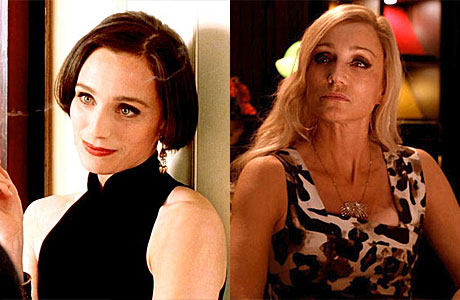 What's she doing now? It would be easier to answer the question, "Where ISN'T Kristin Scott Thomas now?" As she has delivered so many astonishing variations on her trademark viciously buttoned-up posh spinster screen personality that she has become her own archetype. From John Lennon 's Aunt Mimiin Nowhere Boy to Lady Elizabeth Boleyn in The Other Boleyn Girl to the forthcoming My Old Lady and The Kitchen Boy, if you want someone to break into tiny pieces inside while maintaining a frosty shell on the outside, you know who to call.
Andie MacDowell (Carrie)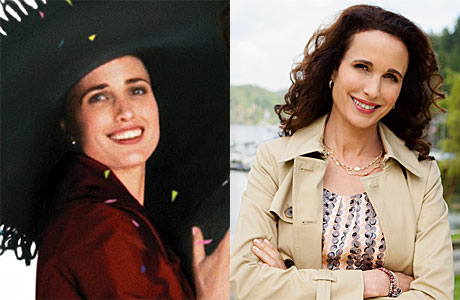 What's she doing now? Andie has maintained a successful career in TV and film, appearing in such notable series as 30 Rock, Jane By Design and Cedar Cove, and movies like Breaking At The Edge, Daydream Nation and Mighty Fine. It was recently announced that Andie will be taking part in Mothers Day, a movie based around 10 Skype conversations between mothers and their daughters.
Rowan Atkinson (Father Gerald)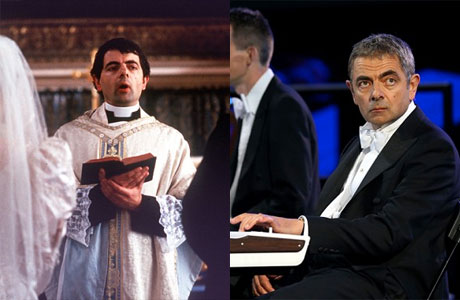 What's he doing now? When you're as world famous as Rowan Atkinson, you don't have to work all the time. So while his last big appearance may have been as Mr. Bean playing in the orchestra during the opening ceremony of the 2012 London Olympics, you know he'll be back at some point soon. In the meantime he's been appearing onstage in London, in the Simon Gray play Quatermaine's Terms. He also provided masterful cameo moments in movies like Love, Actually and Scooby-Doo, so expect the unexpected.
David Haig (Bernard)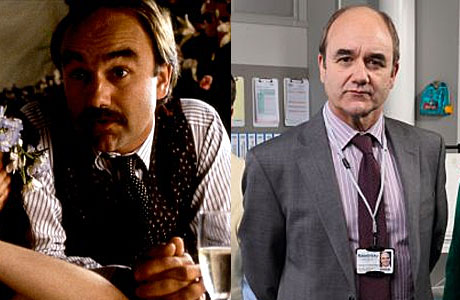 What's he doing now? Last year David managed to appear in two of the most contentious comedy TV shows of the year. First the remade Yes Prime Minister, in which his naturally beaurocratic and pugnaciously fastidious character was shoehorned into that of Jim Hacker, the famously confused politician originally given life by the more laconic Paul Eddington. Then there was Ben Elton's return to sitcoms, The Wright Way, in which David once again played that bumptious official—this time a health and safety officer—in a show that received such a thorough drubbing from critics and social media its cancellation was practically hailed as a PR triumph for the BBC. It's a shame, because in the right hands his uniquely blustering voice can be comedy gold.
Sophie Thompson (Lydia)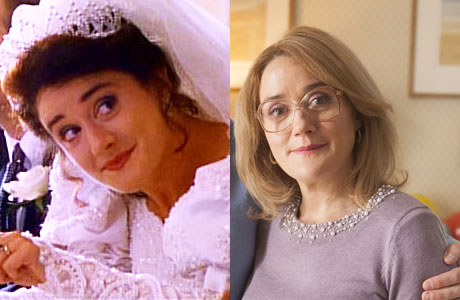 What's she doing now? Sophie's face is so familiar to British viewers it's practically part of their wallpaper. She appeared in EastEnders for a couple of years, can be relied upon to bolster the cast of any costume drama you'd care to name, and recently appeared in an episode of Inside No.9, the disturbing comedy series by Steve Pemberton and Reece Shearsmith of The League of Gentlemen. She's also set to appear in Victoria Wood's latest TV movie Tubby and Enid, later this year.
Anna Chancellor – Henrietta (or 'Duckface')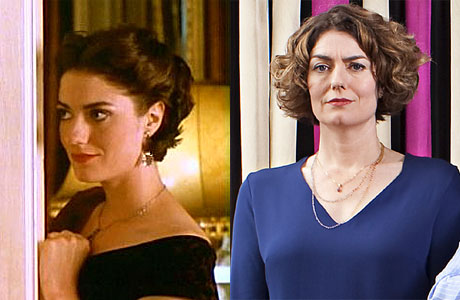 What's she doing now? We all saw Anna as Second Officer Monday in BBC AMERICA's Fleming, of course, and she's just finished another series of the BBC comedy Pramface, as the selfish mother of a young girl who has just had a baby. She also appeared in an episode of Inside No.9, although not the same one as Sophie Thompson, and popped up in Downton Abbey as Lady Anstruther. That's just this year, and it's only April. You can expect to see her soon, in a new adaptation of EF Benson's detective novels Mapp and Lucia, written by Steve Pemberton and co-starring Miranda Richardson.
See more:
Anna Chancellor Talks 'Private Lives' and Maggie Smith
Writer-Director Richard Curtis Debates Retiring from Directing
British Weddings, Not Necessarily Royal
Saluting 'Love Actually' on Its Tenth Anniversary
Read More
Filed Under: