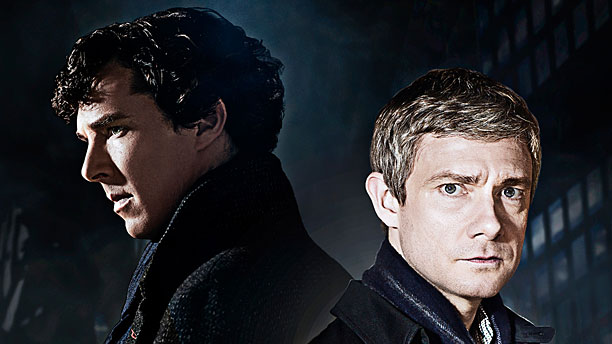 There are times when it looks as if Martin Freeman's current job is to feed Sherlock fans just enough information to keep them caught in a constant slavering state of balance between expectation and potential disappointment.
Having made public statements to the effect that the next two series of the show—for which Steven Moffat and Mark Gatiss already have the ideas, let's not forget—will be a nightmare to schedule given his current workload and that of busy, busy Benedict Cumberbatch, he's now talking about a new and exciting variation on the traditional three-episode seasons. There's an idea that may take less time to make, and could speedily answer the hanging questions about Moriarty and how, why and whether he is back from the dead…but Martin is typically quick to point out that it will be just as hard to get done as filming a full season.
He was interviewed by Alan Carr for the Channel 4 chat show Chatty Man, and let slip that there's an idea flying around the Sherlock production team to make a one-off special, but the problem is getting everyone in one place at the same time to actually do it.
He said: "Mark Gatiss may beat me up, but there is an idea for this one-off special that's such a good idea, and as I was listening to it I thought 'we've just got to do this'. And I don't know when we are going to be able to do it, unfortunately.
"It's a fantastic, really mouth-watering idea. But I really don't know when we are going to get to do it."
Radio Times has made the link between a potential Christmas special and Mark's particular favorite Sherlock Holmes tale The Blue Carbuncle, which takes place around that time of year, but the odds against getting everything done in time seem gargantuan at present, given the popularity of the show's two leading actors and the fact they're both playing Richard III this fall.
Hopes raised, hopes dashed. Or are they? We shall just have to see.
See more: 
Speedy's Cafe to Post 'Sherlock' Fan Art Online
Cumberbatch: 'I'm Never Gonna Play the Doctor'
Benedict Cumberbatch's In-Flight Magazine Gold Rush
Personality Quiz: Which British Detective Are You?
Read More
Filed Under: