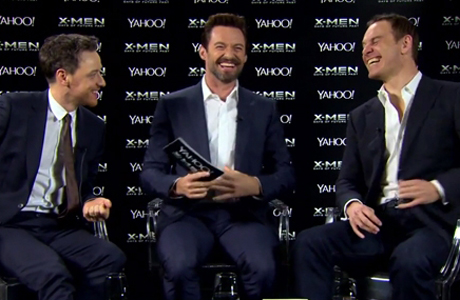 Michael Fassbender, who shares the role of Magneto with Ian McKellen in the X-Men series, playing the younger version, does his best McKellen for his costars Hugh Jackman and James McAvoy.
Jackman throws out questions to his fellow actors kicking off the Yahoo! interview by saying, "Michael, how much McKellen goes into your young Magneto performance?"
McAvoy chimes in saying, "I beg your pardon!"
Of course Fassbender, not known to be shy based on some of his risqué performances like in Shame, simultaneously responds, "That sounds so dirty!"
The three of them have a giggle with Jackman egging him on asking, "Come on! Just give us a little bit. Give us a little Ian."
Fassbender teases us with a bit of an impersonation and then breaks character going back to his natural Irish brogue pointedly saying, "I think in this one for sure I concentrated more on Ian's voice," since they're both in the upcoming X-Men: Days of Future Past.  He goes on to say, "I thought it'd be weird and I didn't want to ask him to go and study my voice."
It sounds like he's stating the obvious, but two actors playing the same role don't always match up. There's been plenty of times when an actor plays a younger version of another actor and you think to yourself, "Wait a minute? He doesn't look or sound like him?" For instance, Daniel Radcliffe playing the younger version of John Hamm, who is much taller than Radcliffe, in A Young Doctor's Notebook.
But we digress … back to the topic at hand.
The fun didn't stop with Fassbender. McAvoy changed it up a bit, taking on McKellen's bestie Patrick Stewart. Jackman gave it a go, giving his best McKellen impression, but wasn't confident going into it saying, "I'm realllly bad." A for effort.
You can watch the video below:
Who did it best? 
See More:
WATCH: Michael Fassbender With A Fake Head In 'Frank' Trailer
Michael Fassbender: Breakout Star or Just Another Talented Hunk?
WATCH: Stewart, McKellen AND McAvoy In 'X-Men: Days Of Future Past' Trailer
Read More
Filed Under: