An outdoor mural has turned up in Cheltenham, a borough in Gloucestershire, England, and people are wondering, "Is it or isn't it?" A Banksy, that is.
The art depicts three men, not so discreetly dressed in trench coats, sunglasses and hats, with surveillance equipment, surrounding an actual phone booth, reports BBC News.
The artwork appeared over night, popping up on the side of a house, with multiple reports pointing out the house is located down the road from the Government Communications Headquarters (GCHQ).
The GCHQ is part of the British intelligence agency, and according to its own website, this is what they do: "For the U.K. to be safe and successful, the cyber connections and infrastructure we use need to be safe and secure. GCHQ plays a major role in making that a reality using our expertise and experience."
The anonymous artist known as Banksy has yet to come forward to claim the piece as his own, but that hasn't stopped visitors from stopping by to take a peek. And, possibly make a phone call while in the area. Wonder if the GCHQ is listening in?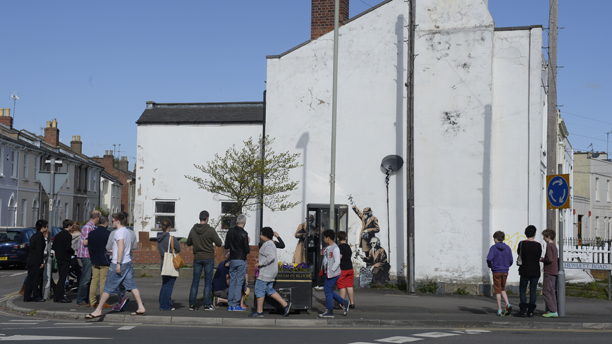 Vince John from the 1loveart gallery in Bristol, England (Banksy's hometown) spoke to BBC News about the painting's authenticity saying, "It's certainly in his style and has the supporting cast of characters that you'd expect from one of his pieces."
The owner of the house, Karren Smith, 48, told The Gloucestershire Echo that she woke up to see men packing up a white tarp into a van at approximately 7:30am on Sunday, April 13.
Smith told the local paper, "It's pretty good. It livens the street up a bit."
Smith's 22-year-old daughter, Sadie, was a bit more excited saying, "I'm happy about it. Everybody in Cheltenham is talking about it, and it's on the side of my mum's house. I'm buzzing."
What do you think of the artwork appearing on someone's private home?
See More:
15 Cool Uses for a Red Phone Booth
Banksy Mural Goes Missing
Banksy Hosts Exhibit in NYC During Month of October
Read More
Filed Under: