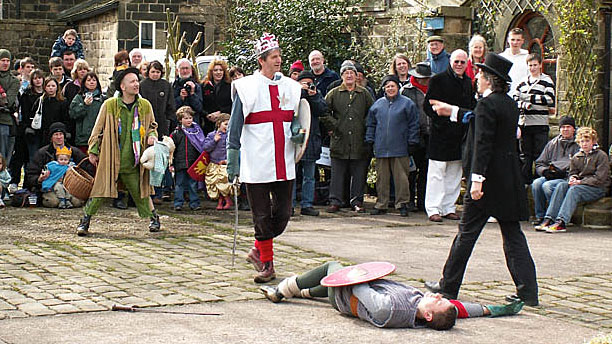 Having made an attempt to round up several of the more unorthodox Easter traditions of the British Isles earlier in the week, here's one that we've saved for a more in-depth analysis, not least because it will be being performed right this very day.
The Pace Egg plays are a theatrical presentation with a roots in mumming—masked mime—that goes back hundreds of years, once being a staple of Easter entertainment across the whole of England. There's a fairly simple story, in which St. George–the patron saint of England—battles various dastardly challengers in front of a fool named Toss Pot and a Doctor who has to bring him back to life with some outlandish remedies.
The rebirth of St. George is linked not only with Christian tales of Jesus, but also with the general spring themes of new life and regrowth after the harshness of winter. It's also accompanied by the gift of painted eggs, fruit or coins to children who come knocking door to door, in the manner of trick-or-treat. And sometimes those eggs are rolled down a hill afterwards. There's a lot going on.
It's a broad, bawdy spectacle—probably closer in spirit to WWE wrestling or pantomime than the great soliloquies of Shakespeare—played out in open public spaces, to gather the largest crowds and then ask them for money. Certainly, the Pace Egg plays came out of a time when poor families were not able to beg for money or food outright, and resorted to putting on entertainments in order to encourage hands into pockets.
Here's a flavor of the event, with songs, audience participation, and a lot of mucking about:
The word pace is thought to derive from the Middle English word pasch, which means Easter or Passover, although it has been confused with peace over the years, just to muddy the waters. And this is only the beginning of the problem in describing the event, or more specifically, events plural. Of the Pace Egg plays being enacted this weekend, huge regional variations occur between characters and traditions, especially as some plays are based on scripts written in the late '60s and early '70s, as an attempt to re-establish a link with the past, and even the older ones were time-warped by the retelling in the first place.
Then there's the not-inconsiderable fact that plays can be moved from venue to venue, often becoming something of a pub crawl in the process. It's no wonder the facts have become a little fuzzy with time. Many Pace Egg players perform with blackened faces, but as with the Nutter's Dance, the intention seems to have been to become unrecognizable, with coats turned inside-out and outlandish headpieces, in order to bring the maximum amount of good luck to everyone in the community.
The common theme is that St. George battles a terrifying foe, such as the Turk or the Black Prince of Paradine, having been called upon to do so by the King of England, whose champion Bold Slasher has been wounded by the villain's blade. St. George loses and dies, so the Doctor, with a huge bag of silliness, has to try and bring him back to life. He eventually succeeds in reviving the patient—in some traditions—with the help of his horse, and St. George recovers enough to save the day. Along the way he is variously helped or hindered by characters such as the fool Toss Pot, Owd Bett (a man dressed as a woman, naturally), Miss Kitty Fair (ditto), Lord Nelson, Owd Beelzebub and Derry Doubt.
Should you wish to see a Pace Egg play, the places to be are Middleton in North Manchester (on Easter Monday), Bury in Greater Manchester and Heptonstall in West Yorkshire (both Good Friday).
Oh, and one lasting legacy of Pace-Egging is that tosspot is used as a mild term of abuse in some parts of Britain to this day.
So if someone calls you by that name, it's not because you look like you'd be a good mummer.
Here's Alan Rosevear introducing some more of the potential characters in "The Pace Egging Song":
For more information about the Pace Egg plays, try these websites:
See more:
Easter Is Coming: Let's Make a Simnel Cake
10 British Ways to Ring in the New Year
Why Do The English Have A Problem With 'Trick Or Treating'?
Five Birth Traditions of the British Isles (Some Of Which Are Disgusting)
Read More
Filed Under: