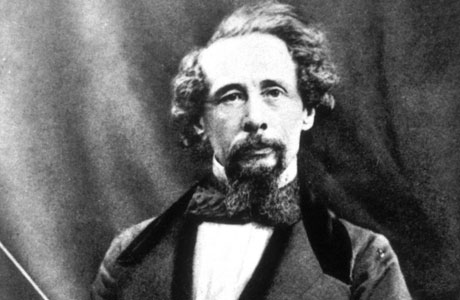 By rights, this should be an open and shut case. If you're surprised by something, if a thing happens that causes shock and befuddlement, and you exclaim "what the dickens?" in a voice not unlike Stewie Griffin on Family Guy, you're doing it in tribute to Charles Dickens, right?
It sort of makes sense: the master story-teller, doling out suspense and surprise with every twist and turn of his convoluted plotlines, an expression of real life shock and surprise must surely be related, mustn't it?
Well it seems not. In fact, "what the dickens" predates Charles and his stories of Victorian London by centuries, and is even quoted by another of England's greatest wordsmiths: William Shakespeare.
The Merry Wives of Windsor, has the following exchange, between Ford, Robin and Mrs. Page:
Ford: Where had you this pretty weathercock?

Mrs. Page: I cannot tell what the dickens his name is my husband had
him of. What do you call your knight's name, sirrah?

Robin: Sir John Falstaff.
So, if the dickens in "what the dickens?" isn't Dickens, who is he?
Well in a sense, he is the devil. Or at least, the word dickens is a substitute for the word devil, just as heck is a substitute for hell, or gosh for god. The phrase Mrs. Page wants to use is "what the devil," but that would be considered blasphemous.
Dickens, or Dickin (or, for that matter, the deuce in "what the deuce"), will have been common enough words to work as a way of preventing offence when used in polite company, or even providing a mild frission of expectation, as if Mrs. Page is about to say a naughty word but jumps sideways just in time, like that nice woman in your office that says "oh FUDGE!" or "cheese and crackers!" when she means something else.
And of course, when referring to a naughty child as a little dickens, it's not his or her literary prowess that is under discussion.
There's a line of reasoning that suggests the word wasn't just picked as an innocuous name that begins with the same consonant. It concerns a possibly mythical 16th century bowlmaker called Dickens who was famous for being bad with money. The Guardian's Note and Queries on the topic even has contemporary quotes about Dickens from one R Galis, who, in 1579, said: "I was constrained to take half the money they cost mee, gaining by them as Dickins did by his dishes. Who buying them five for twopence solde six for a peny."
And another from Middleton in 1599, who had this to say: "No more is to be got by that than William Dickins got by his wooden dishes."
Not that this detracts from the idea that dickens is a blasphemy substitute, it's just one of many reasons why the word will have had some currency as an alternative.
And why would that matter? Better the dickens you know.
See more:
10 Old British Slang Terms That Deserve A Revival
Five Tiny U.S. Phrases With Opposite Meanings In The U.K.
Five Phrases, Five Tiny Differences
10 Myths of the Supernatural, Taken From British Folklore
Read More
Filed Under: