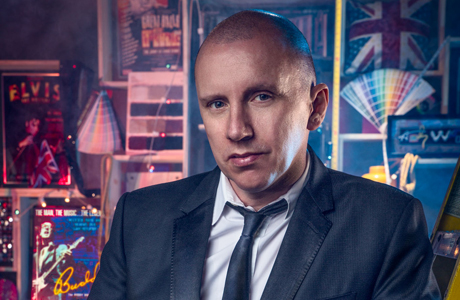 Like many other Brits looking to make a name in show business, Andy Walmsley first tried his luck in Los Angeles, but today he's a huge flag-waver for the delights of Las Vegas, a place where there's a surprisingly large expat community working in the city's endless entertainment.
"There's an insane amount [of Brits here]!" he says. "A few years ago I created a local Vegas expat club with a couple of friends—we called it UKLV—and we used to throw parties for the Brits that lived in Vegas.
"Sadly it doesn't exist anymore—a couple of the others went home—but we got to know thousands of Brits here, and the British consulate once told me that they have on record 30,000 British people living in Las Vegas. Almost every show has at least a couple of Brits on stage or backstage, and the Cirque Du Soleil shows are full of British people, many of whom are ex-Olympic gymnasts who retired and, believe it or not, joined the circus!"
Born in Blackpool into what he describes as a "showbiz family" (he spent his childhood backstage watching his comedian father and fire-eating mother), he went through a teenage "phase" wishing to be a cameraman, but when he was making miniature set models to study different angles he found he enjoyed that much more.
"I was obsessed with wanting to be a set designer as a kid," he says. "I dreamt about it all day, and when kids were out socially interacting, I was in my bedroom sketching or making card models of my sets. I forfeited a normal teenage experience, but it paid off later in life and I now live in the biggest playground in the world, playing in make-believe worlds. Really, I'm having my teens in my forties!"
That "normal" teenage experience included his first huge break. At age 15 with no formal training, family friend and U.K. magician Paul Daniels took a chance on him, asking him to design some props. Walmsley ended up designing the whole show, and within a few years, he had set off for university to study set design, working in the theater as a stage hand in his free time.
"A set designer is essentially an architect," he says. "I design the entire world that a show takes place in, but sets are very temporary and unlike buildings; they simply need to look great and often only need to last one day. Once the set is built, I go into the studio or theater to make sure it is completed and finished correctly."
He got a job as an art director straight after graduating, but was soon being offered something else: the complicated but plum assignment of designing the set for Buddy: The Buddy Holly Story. At 21, he was the youngest designer for this U.K. (and eventually Broadway) show, and it was quickly followed by scenery and costume work for Blood Brothers on Broadway too.
Television came calling, and after designing "literally dozens" of specials, award shows, entertainment shows and meeting Queen Elizabeth II three times as part of the team on the annual Royal Variety Performances, in late 1998 he went to a meeting in London about an upcoming show called Cash Mountain.
He had barely a month to assemble his amphitheater design, which was meant to evoke a gladiatorial arena, and the show was immediately a massive hit, though it was now called something far more catchy: Who Wants To Be A Millionaire.
Though the U.K. television series has just come to an end after 15 years on screen, that set has been franchised (or "duplicated") to versions in over 100 other countries and is seen regularly by hundreds of millions of people. It was however his work in 2001 as production designer on another hit British television show, Pop Idol, that gave him the chance to fulfill his "burning desire" to move to a country he had already visited many times.
"It wasn't until Pop Idol was heading stateside that the timing was right for me to essentially end my British career," he says. "This was around 10 years ago now, and I initially lived in L.A. where I was designing American Idol, So You Think You Can Dance, America's Got Talent and a bunch of other network shows that a small group of expats I was part of (Simon Cowell, Nigel Lythgoe, etc.) created."
He won an Emmy in 2009 for his work on American Idol, commenting that he was involved from "the very beginning back when we didn't have a clue what monster we were about to give birth to" and was also involved on America's Got Talent from the early days too.
"I worked closely with Simon [Cowell] and helped him create the X buzzer concept," Walmsley recalls. "Designing the show was great fun, and it allowed me to work closely with countless specialty acts, magicians—something that led Terry Fator and Nathan Burton to ask me to design their own permanent Vegas magic shows, as well as the America's Got Talent touring live shows at Planet Hollywood and the Palazzo in Vegas."
Like many other Angelenos, he had fallen under the spell of Sin City.
"I had been coming on vacation to Las Vegas for years, and now that I lived only a four-hour drive away I made a point of visiting at least once a month," he says. "Then a couple of years later I decided to move to Vegas, and I plan on staying here for a very long time, or indeed the rest of my life. This is hands down the best city I have ever lived in; it has the best shopping, best restaurants, best nightclubs and best shows, and then 30 minutes one way, and you are skiing on Mt. Charleston. And 30 minutes the other way, you are sailing on Lake Mead. Then there's the amazing climate, no state taxes … should I keep going? Because I can!"
He also has no problems maintaining his L.A.-based television career "thanks to the internet and Southwest airlines," though 2014 could see the beginning of something new.
"I am at the beginning of a career transition from production designer to show producer," he says, "and I have four projects that are all getting very close to happening—and if it's not soon, it will happen in the next few years. I love the U.K. and am very proud to be a Brit, but the best thing I ever did in my life was move to the U.S."
A "big project" will see him back in the U.K. several times in 2014, though he usually only visits every couple of years. Nonetheless, Walmsley keeps in touch by watching "at least an hour of British television a day. It's amazing how I keep up with what is going on with news or even just popular culture in the U.K."
He also confesses that while he loves America, "the chocolate is awful," and he buys his favorite British brands from Cost Plus World Market, "though there are thousands of British and Irish pubs throughout the States that sell those goodies." The other drawback of living here is that he's "still trying to find Mrs. Right—not easy in Vegas!" he does have a piece of advice for Brits looking to come to the U.S.
"Never, ever lose your British accent," he says. "It opens doors in every way in this country, so the moment you start saying 'preddy,' instead of 'pretty' you need to check yourself!"
See more:
Interview: Alana Kerr – from Belfast to Hollywood
British Aviator Richard Chan Takes Flight as Hollywood Entrepreneur
Read More
Filed Under: