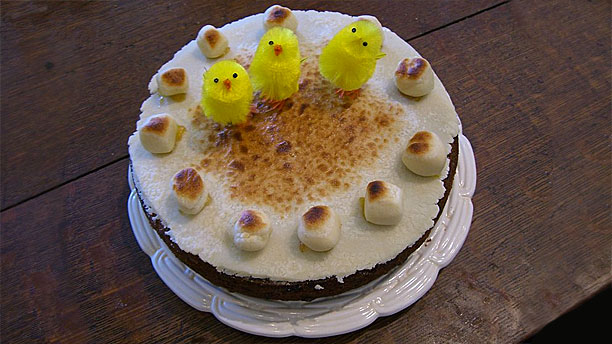 We know that Anglophilia is a competitive sport—to be honest it is in the U.K. too—so why not have a bash at making a cake that is traditional to the British Isles, but not so ubiquitous that everyone has heard of it? That way, you're not only showing off your expert knowledge to the part-timers, you're making an instant secret club with anyone that makes the same cake.
Not that it's that exclusive a club; the making of a simnel cake is an Easter tradition that goes back hundreds of years. The word simnel itself doesn't have a clear definition, although there's a suggestion that it refers to the fine white flour used in the recipe. The cakes have been traced back as far as medieval times, being traditional fare for the middle Sunday of Lent—called Laetare Sunday, Sunday of the Five Loaves, Refreshment Sunday or Simnel Sunday—when the rules about fasting would be temporarily relaxed.
Simnel Sunday is most commonly preserved in the UK as part of Mothering Sunday, and there has been a more recent tradition for daughters to make simnel cakes and take them to their mums, in the days before greetings cards.
As with any foodstuff that has lasted as this long, there's no fixed recipe for a simnel cake, it all depends who you ask and where they are from. Although it's commonly a light fruit cake, Bury in Greater Manchester has its own version, as does Devizes in Wiltshire, and even Jersey in the English Channel, although the most well-known version comes from Shrewsbury in Shropshire.
Here's a recipe, courtesy of BBC Shropshire.
The thing that makes a simnel cake so distinctive is the decoration, and here we uncover yet another regional variation. Simnel cake is traditionally topped with marzipan, and then decorated with eleven marzipan balls (or possibly twelve). These either symbolise the eleven apostles, leaving aside Judas, or the eleven apostles and Jesus if you want a more symmetrical cake that is easier to divide up.
The addition of the symbolic balls is a relatively late development, arriving in the mid-Victorian period and replacing the scattering of preserved fruit and flower petals that had been used previously.
One last thing: some recipes will call for almond paste instead of marzipan, but be careful, as there's a difference in terminology between the U.K. and U.S. as to whether these are the same thing or not. In Britain, almond paste will probably have a similar sugar content to marzipan, so they're practically interchangeable. So it's probably best to stick with marzipan, unless the recipe specifically says not to.
Enjoy!
See more:
How Do You Like THESE Apples? 10 Of Britain's Best
Five Recipes From Victorian England
Haggis: Banned In The U.S.A.
Let's Make Some Hot Cross Buns For Easter
Read More
Filed Under: