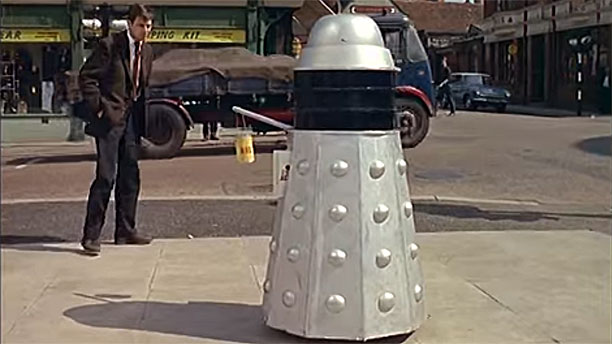 Happy Easter and welcome to another Who's Day cavalcade of Gallifreyan glory!
One of the most delightful discoveries of the past seven days has been the digital archive that British Pathé News has made available for public viewing on YouTube. There's an astonishing array of footage, serious and silly, and some of it features some familiar faces.
The folks at Feeling Listless have been trawling the archive looking for Doctor Who-related film clips, and here are a few of the absolute gems they found.
Take this radio-controlled Dalek bookseller from 1964:
Or this display of Doctor Who monsters at Kensington Olympia in 1967, including the Yeti from "The Abominable Snowmen"
And then there's a young William Hartnell in 1947, attending the British Film Festival:
Another highlight is the arrival of the anarchic Merry Go Round Gang in 1947. At first they seem a little stiff and starchy, and then there's a marvelous close-up on Jon Pertwee's expressive face. See if you can spot him:
Kinda jumps out at you, doesn't he?
Here's what else has been going on in space and time this week:
• Doctor Who has received multiple nominations for this year's Hugo awards. "The Day of the Doctor," "The Name of the Doctor" and "The Five(ish) Doctors Reboot" are all nominated in the short form dramatic presentation category, as has An Adventure In Space and Time.
Steven Moffat told the Who website: "For Doctor Who to receive four Hugo nominations in its anniversary year is completely thrilling. We are all over the moon. I'm particularly pleased about 'The Five(ish) Doctors Reboot' as that was my acting debut. I remain available for any parts requiring a black jumper and slightly unrealistic hair."
• The comic The Girl Who Loved Doctor Who, by Paul Cornell and Jimmy Broxton, has been nominated in the graphic story category.
• While we're on awards, John Hurt appeared on the BBC's The One Show to ask Doctor Who fans to vote for "The Day of the Doctor" in the Audience Award at the forthcoming television BAFTAs.
• And British comedian Frank Skinner agrees.
• Tom Baker told Digital Spy that he would return to Doctor Who if given the chance. "If it was a nice part, with some good lines, I might deign to appear," the former Fourth doctor said.
• He also talked to them about how playing the Doctor propelled his career. "Probably I stayed on too long. But the truth is, I never did give it up—because people wouldn't let me give it up! I'd been waiting for a part like Doctor Who all my life and since I finished, it's never gone away."
• It was David Tennant's birthday on April 18, so naturally we had to put together a playlist of great Tenth Doctor moments.
• To our Australian friends we would like you all to know that The Science of Doctor Who is going down under! Get your tickets and join host Rob Lloyd at this interactive event.
• At Wizard World Comic Con, Matt Smith revealed he felt the most connected to the stories in Season 5 – his first playing the Doctor. "For me, the best storytelling was in series five," he said. "It had great adventure and great clarity, and I loved that whole idea about the Pandorica and the Big Bang."
And that being said, Smith admitted his favorite Doctor speech was in "The Pandorica Opens."
• Doctor Who Legacy updated last Thursday. 2.0 had added the First, Second, Ninth, and War Doctor. In addition, there are two new features. One is the Perk System that will reward players when the match any color in the shape of a cross or a T, and another is Expert Mode, which will provide challenging levels that will show black and white version of existing characters to show them in a rip in space and time.
• Radio Times did the math and if you were born on April 17 and happened to turn 41 last Thursday, the likelihood that you will be the next Doctor is significantly higher than anyone else. Check out how it works out here!
• WhatCulture made a list of alien worlds they would like to see revisited. Are there any that didn't make their cut that you would like to see? Let us know in the comments below!
• Finally, in celebration of National Poetry Month, here's David Tennant reciting Shakespeare's Sonnet 126:
TTFN!
See more:
The 'Doctor Who' 50th Anniversary Poll
Read More
Filed Under: