Welcome to your Doctor Who's Day roundup: a week's worth of Whovian bricolage in one handy blog post.
What better place to start this week than with Matt Smith singing the Doctor Who theme in front of a panel audience at Louisville WizardWorld Comic Con last weekend?
And then, while meeting the fans and having his picture taken alongside Karen Gillan, THIS happened:
Less "I do," more, "I Who," right?
And here's the result of one of the photo-ops from the event, via @KouchPotatoIN:
#DoctorWho |Matt Smith, Karen Gillan and Me. (Inside my Dalek) (via reddit) pic.twitter.com/f9Mwsjb63B

— Kouch Potato (@KouchPotatoIN) March 31, 2014
Here's what else is going on in space and time this week:
• Tributes have been coming in for Kate O'Mara—the actress who played the fabulous Rani: evil opponent of the Sixth and Seventh Doctors—who died over the weekend.
Colin Baker, on hearing the news, tweeted this:
Oh my goodness. Kate O'Mara is no longer with us. Sad sad news. A delightful, committed and talented lady and actress. We are the poorer

— Colin Baker (@SawbonesHex) March 30, 2014
We compiled her best moments—Rani and otherwise—here.
• And we are saddened to report that Derek Martinus, who directed 26 Doctor Who episodes, including "The Tenth Planet" and "The Ice Warriors," passed away last week.
• Mark Gatiss has been commissioned to write two eps of Doctor Who. He's also hinted that one of them may involve a Jane Austen plot.
• Den of Geek have put together a roundup of the film careers of William Hartnell and Jon Pertwee.
• Sean Pertwee, son of Jon and a great acting talent in his own right, has said his dad would've been delighted that Peter Capaldi is now playing the Doctor: "My father was very fond of Peter and Peter is an extremely lovely gentleman. He was very kind to my family when my father passed away, he was big fan of my dad's actually. So personally the Pertwee household were absolutely delighted when he got the role of The Doctor."
• Shortlist, clearly very clever people themselves, have compiled a list of 30 of the wisest quotes from Doctor Who.
• TwilightSaphir made this cute little Doctor Who mosaic: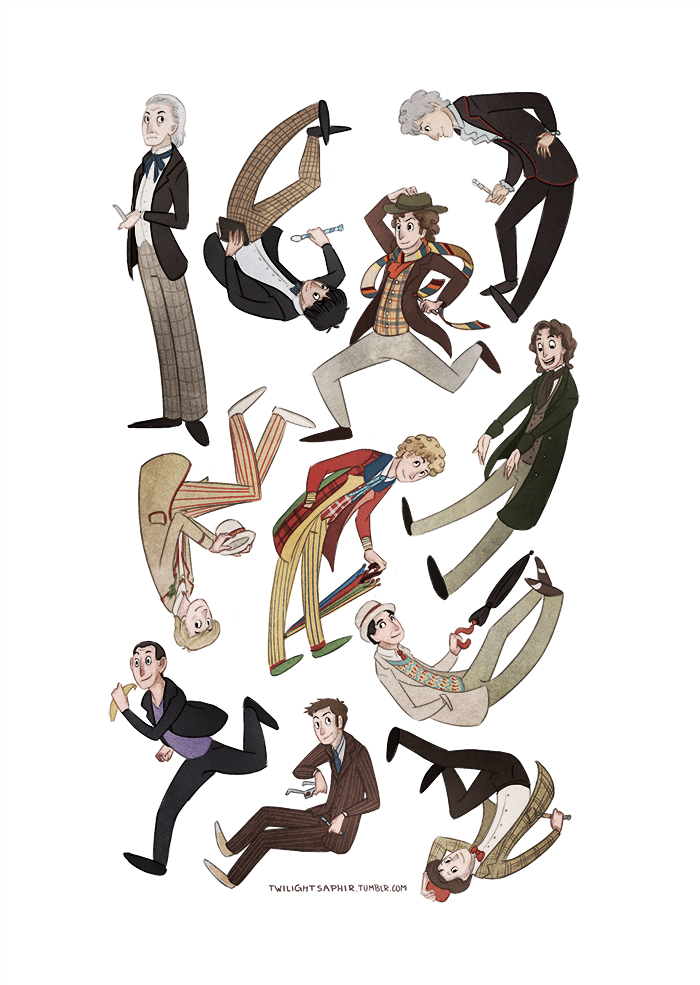 • Test your Who knowledge and see if you can remember which of these British actors have or haven't been on the show on RadioTimes' quiz.
• The BBC Radiophonic Workshop, the department who put together the original (and still astonishing) theme music for Doctor Who, have got the band back together for a one-off concert in Chichester.
• The Doctor Who site is celebrating nine years since the Ninth Doctor arrived, and therefore kickstarted the modern era of the Doctor.
There's this specially-commissioned wallpaper:
• The arrival of the Ninth Doctor in Doctor Who: Legacy…
• And here's how his first appearance was trailed on British TV:
• Incidentally, fans of Doctor Who: Legacy may wish to know BBC America has an interview with the game's creators at Tiny Rebel.
• Take a look at this incredible Ten/Eleven piece that the Chalk Twins made at MegaCon. It's 8'x10′ and took 40 hours to complete!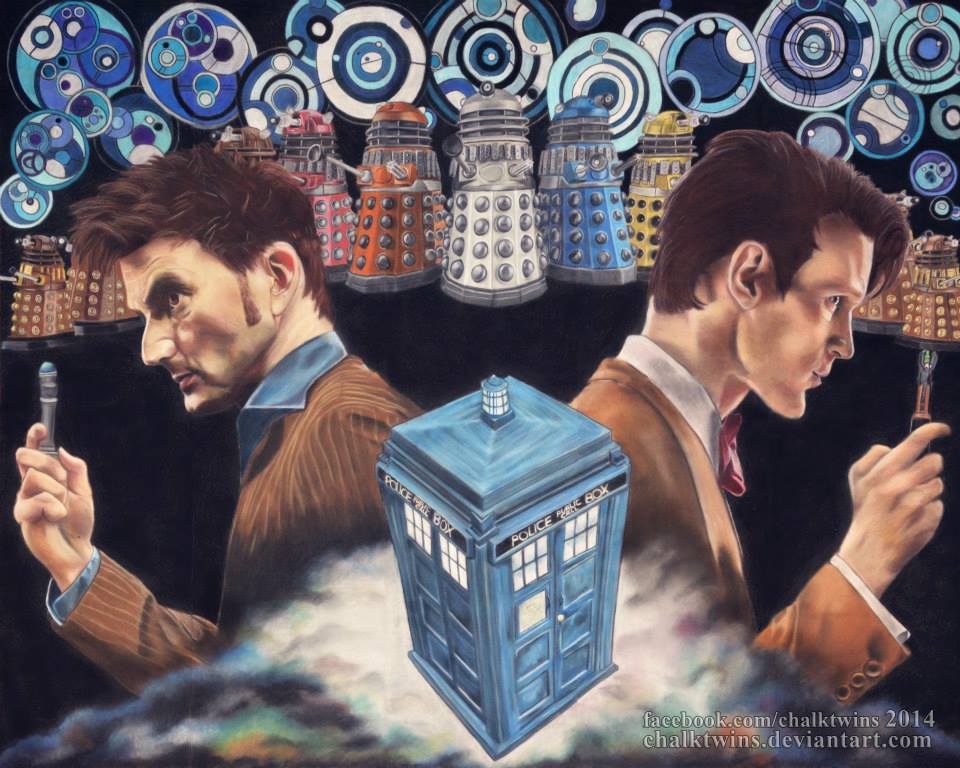 • In celebration of the 50th anniversary last year, the folks over at CultBox asked fans to submit their re-enactments of their favorite Doctor Who scenes. Here were some of the entries:
• And finally, grab a box of tissues and watch this Eleven tribute, "Light Carries On"
TTFN!
Read More
Filed Under: