It's been quite the weekend for Whovian birthdays; Fifth Doctor Peter Davison was 63 on Sunday—although he doesn't look anywhere near that old—and then yesterday Peter Capaldi turned 56.
To celebrate Peter's birthday, the always-delightful Doctor Puppet made a YouTube clip animating Peter's own Doctor Who artwork, drawn for the Doctor Who Fan Club magazine in 1976.
Take a look:
The interesting thing about the double birthday is that it comes only a couple of weeks after Patrick Troughton would have celebrated his 94th birthday (March 25), and it's only three days until David Tennant's 43rd birthday (April 18).
Which makes right now the most concentrated birthday period for actors who have played the Doctor in the entire year.
Here's what else is going on in space and time this week:
• The boffins and musicians behind the BBC Radiophonic Workshop—the long-closed department for experimental electronic music within the Beeb that generated the original Doctor Who theme and the TARDIS noise—have been on tour in the UK, playing some of their most famous compositions.
Here they are blamming out a very familiar tune indeed:
• An interview with Karen Gillan for Entertainment Weekly, in which she says this of her tearful cameo appearance—"Everyone was crying! Everyone! Me and Jenna were hugging. Oh my God."—in "The Time of the Doctor:"
"It was really weird. It was such a surreal experience. Because those were three very important years of my life on that TV show and then to go back and be on someone else's TARDIS was a really weird sensation. And sort of be on the outside looking in.
"But also knowing that life is okay after you leave Doctor Who. It was just a really interesting experience and important to me that I was there for Matt's final moments in character."
• Here's an exclusive clip of the Farewell Matt Smith special the UK channel Watch has put together:
• We are saddened to say Doctor Who writer and actor Glyn Jones passed away. He wrote the classic episode, "The Space Museum" and appeared alongside Tom Baker in the two-parter, "The Sontaran Experiment" as Krans.
• Ever wondered what happened to Karen Gillan's hair after she had it cut for her part in Guardians of the Galaxy? Well, it's going to be in Star Wars, sort of.
She told Collider: They made my hair into the most incredible well-made wig and they gave it to the Star Wars people. It's just so funny to think that my hair is made into a wig, next to all these Star Wars monster heads in a warehouse."
• Caleb Howells takes a look at the science behind the Weeping Angels and their "quantum locked" state. Read about it here!
• Just a reminder for Whovians in the UK, Ireland and Italy: Horror Channel starts airing classic Who episodes in THREE DAYS!

Here's their beautiful trailer:
https://www.youtube.com/watch?feature=player_embedded&v=0TZ55VuIa3Q
And a little Cyberman blipvert too:
• Den of Geek have pulled together a selection of movie clips from the careers of Patrick Troughton and Tom Baker—the Second and Fourth Doctors, respectively.
• For the Doctor Who Meme, cryingmanlytears made this incredible graphic for her favorite gadget, the sonic screwdriver: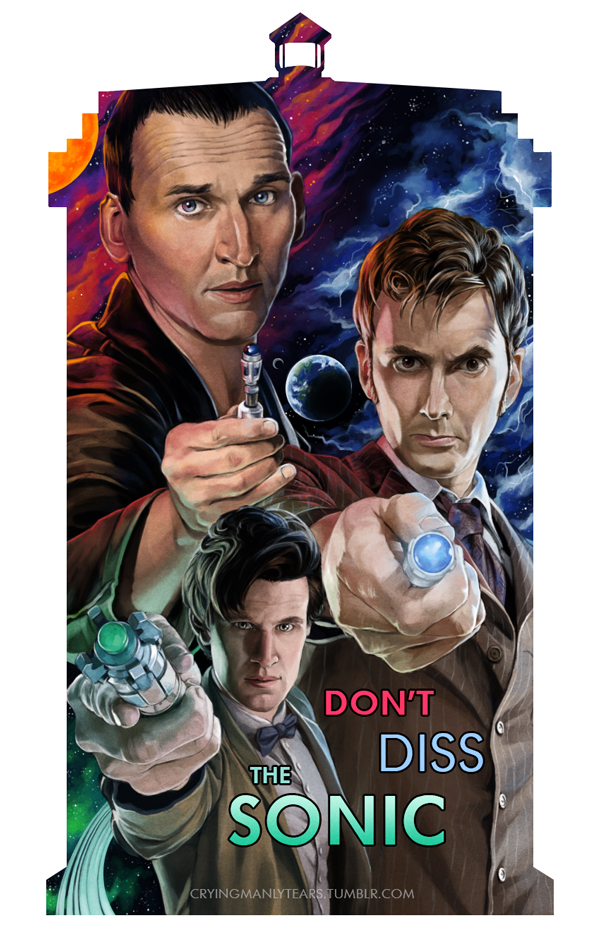 • Samuel Anderson posted this to his instagram on Friday, featuring a new name for the cast sheet: Ellis George.
ARE YOU EXCITED?! CAUSE WE'RE EXCITED!
• "The Day of the Doctor" is on the shortlist for the Best of British trophy—against Sherlock and Downton Abbey—in the Freesat Free TV Awards, and voting is still open for 50th Anniversary special to win the Audience Award at the TV BAFTAs. Fingers crossed!
• And speaking of "The Day of the Doctor," a mock-trailer by Takeabow2 for a reswizzled 50th anniversary special, using footage taken largely from the 50th anniversary special itself, as well as a few other places.
It's rather good:
• Last, but certainly not least, we would like to congratulate our friends over at the Doctor Who Tumblr and all you fans who helped make the blog what it is, thus winning the Shorty Industry Award for best brand on Tumblr!
Congrats to @bbcdoctorwho for winning the Shorty Industry Award for Best Brand on @Tumblr! #ShortyAwards http://t.co/2fvv2qzNwm

— Shorty Awards (@shortyawards) April 8, 2014
TTFN!
Read More
Filed Under: