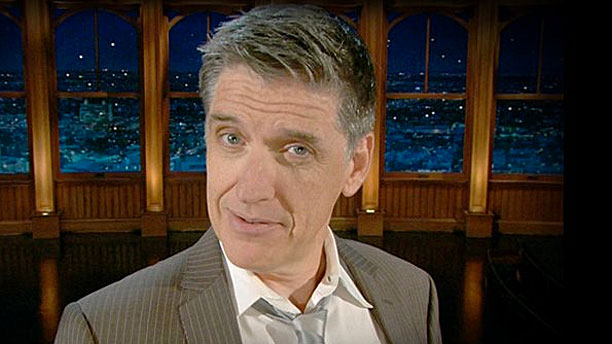 What is going on in the world of TV chat-shows? It's only been a couple of weeks since we were all excited about the possibility that David Letterman retiring from his Late Show might offer new and exciting career opportunities for the very wonderful Craig Ferguson, and now it turns out he was already thinking of leaving The Late Late Show when David made his announcement. So after leaving a suitable period for the dust to settle, he's making his own.
It is, in a very real sense, a chatastrophe.
As outlined in an interview for Variety he explained that the decision to move is fairly straightforward, he wants to avoid getting too settled, and therefore bored.
"Ten years is a very long time in one job — for me," he said. "I wanted to leave the show before I stopped enjoying it. That was my goal. I didn't want it to be a chore. The whole idea is that show business should have some adventure to it, I think. It's not about knowing what you're doing day in and day out, year after year."
"It wasn't contentious. I was just like, 'I feel like I'm done.'"
And he took pains to explain his decision had nothing to do with any suggestion that he feels snubbed by CBS, that he wanted Stephen Colbert's new job behind the desk at the Late Show: "We were all fine and were tying up loose ends. And then Dave surprised everybody with the announcement and that threw a spanner in the works. And I had to sit and keep my mouth shut while speculation raged wildly.
"It's an inevitable thing when David announced his retirement, people are going to say 'Oh he's leaving because of that.' No matter what I say or what I do, they're gonna say that. Well they can say what they like. It's America. I understand."
The good news is you'll still be able to enjoy Craig's particular brand of talk presentation for the rest of this year, as he's agreed to stay on until December to allow CBS time to find a suitable replacement.
Might we suggest someone from this list (Craig excepted)?
After that, there's his new game show Celebrity Name Game, and various other projects, but no more chat. That's that for chat: "I don't know if I would ever do a late night talk show (again). It just doesn't feel like that's the way I'm headed."
And that feels (to us) like a shame.
See more:
Personality Quiz: Which British Chat Show Host Are You?
'The Graham Norton Show's Five Most Frequent Flyers
British Celebs You Should Follow on Twitter: Talk Show Host Edition
Dreamboys: A Punk Band with Peter Capaldi and Craig Ferguson

Read More
Filed Under: