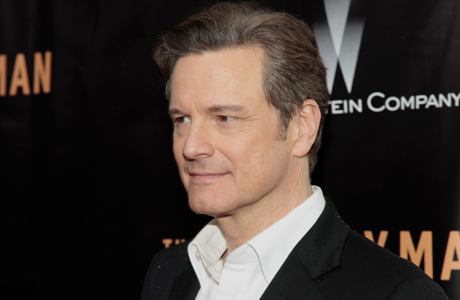 Benedict Cumberbatch isn't the only one who has been busy, busy, busy. So has fellow English actor Colin Firth.
The Oscar winning star, who has been absent from movie screens since the release of the little seen road movie Arthur Newman nearly a year ago, has a surfeit of new films opening in the next few weeks and months.
First up is The Railway Man, an inspirational drama based on a true story that arrives in movie theaters this Friday (April 12). Firth portrays Eric Lomax, a middle aged, British World War II vet who can't put to rest his memories of being tortured by the Japanese when, as a soldier, he was a prisoner of war in Burma. Nicole Kidman plays the sympathetic woman he marries who helps him confront his past.
Here's the scene where Firth and Kidman's characters first meet:
Ordering up Video on Demand will be the only way to see Gambit, a comedy in which Firth plays put-upon art expert who finds himself involved in a criminal scheme and falling for a rowdy Texan (Cameron Diaz). Fellow Brits Alan Rickman and Tom Courtenay costar. The film, which opened to dismal reviews in the U.K. in late 2012 and in much of the rest of the world that year and in 2013, finally arrives straight-to-VOD in the U.S. on April 25. (Gambit is a remake of a 1966 movie that starred Michael Caine and Shirley MacLaine.)
Check out the trailer:
Come May 9, Firth will play a Yank and a Southerner when he portrays a private investigator in Devil's Knot. His character, based on a real person, volunteers to help the lawyers defending a teenager who, along with two other teens, was tried and convicted–many believe mistakenly–for the killing of three young boys in 1993 in a celebrated case that came to be known as the West Memphis Three. The film, which had its premiere last fall at the Toronto Film Festival, suffered in the estimation of most critics when compared with earlier, more thorough documentaries on the same topic.
Here's a trailer:
As if all that isn't enough, Firth has four more movies expected to open before the end of the year:
Magic in the Moonlight. In this romantic comedy from director-writer Woody Allen, Firth plays an Englishman aiming to uncover a swindle in the South of France in the 1920s. There's no opening date announced yet, though a July release has been mentioned.
Before I Go to Sleep. Firth reunites in this psychological thriller with Nicole Kidman, as well as fast-rising British actor Mark Strong. There's no firm U.S. release date but the film, which was shot in London, opens in the U.K. on Sept. 25.
The Secret Service. Firth turns action hero here, playing the head of a hotshot spy agency in England. The movie has earned good early buzz and its U.S. opening has been moved forward to Oct. 24, a coveted fall slot. Service, based on a comic book, is directed by fellow Brit Matthew Vaughn (X-Men: First Class).
Paddington. Yes, it's the cuddly bear. Firth will provide the voice of Paddington, the beloved bear, in this live action version of the popular series of children's books by Michael Bond. Nicole Kidman–again!–also stars. The family film is a holiday release, opening Dec. 12.
Which of these Colin Firth movies do you want to see?
See More:
WATCH: Colin Firth In Longer Trailer For 'Devil's Knot'
WATCH: Colin Firth in New 'The Railway Man' Trailer
Colin Firth And Hugh Bonneville To Star In 'Paddington Bear' Movie
Read More
Filed Under: