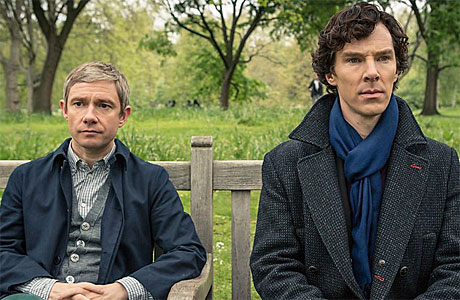 There's a danger of things becoming silly now.
Two weeks ago, the big news was that Benedict Cumberbatch would be playing Hamlet in the West End, in 2015. This clearly needed a year's advance warning, so fans can prepare travel budgets and buy ticket-handling gauntlets.
Then, last week it was announced that his Sherlock compadre Martin Freeman would also be treading the boards and performing the Bard, in a production of Richard III this summer.
But now, with the announcement that Benedict is to play the same role in a new BBC TV production of William Shakespeare's retelling of the Wars of the Roses—Henry VI parts 1 and 2, and Richard III—it's starting to look a little like a very thespian game of career chess, with each Sherlock actor trying to out-Shakespeare the other.
This new series coms from Neal Street Productions, who won a BAFTA for their last historical Shakespeare collection, The Hollow Crown. They will be directed by Dominic Cooke, former artistic director of the Royal Court theatre, where Benedict appeared in Martin Crimp's play The City in 2008.
In a press release, Benedict said: "I can't wait to work with Dominic Cooke again to bring this complex, funny and dangerous character to life for the BBC and Neal Street Productions's peerless series of Shakespeare's history plays."
And of course in our minds he also added: "your move, Mr Freeman…"
See more:
Benedict Cumberbatch Makes The Wish-List For 'Frozen 2′
VIDEO: When Benedict Cumberbatch Photobombed U2
WATCH: Martin Freeman and the Cast of 'Fargo' Explain How the Show Differs from the Movie
Fill In The Blanks With Benedict Colorbatch
Read More
Filed Under: