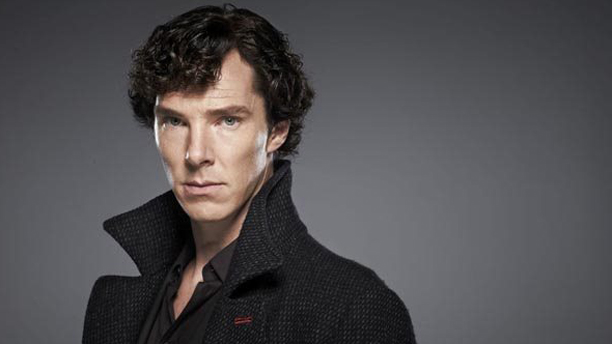 Well, look who it is. Sherlock's Benedict Cumberbatch has made Time's annual list of 100 Most Influential People for 2014, which hits newsstands today.
Fellow Brit and colleague Colin Firth, who was on the list in 2011, had the honor to write up a profile on his Tinker Tailor Soldier Spy co-star and friend.
Where to start?
Firth goes back to the beginning. He had the pleasure of briefly working with Cumberbatch's parents, Wanda Ventham and Timothy Carlton, when he was a young actor himself at the age of 25.
He describes the couple as being "full of considerable talent" who embodied qualities like "elegance, glamour, wit, kindness, and decency." He admits he didn't realize the two were married, nor that they had a 10-year-old son who was quietly tucked away "gestating all the same attributes."
And now, "the boy has been let loose."
Firth points out the rarity of seeing so many elements in one actor and jokingly writes, "He must be stopped."
We've only pulled snippets from Firth's affectionate profile on Cumberbatch, which you can read in full here.
Cumberbatch wasn't the only Brit to make the list; he was joined by 12 Years a Slave director Steve McQueen, banker Andrew Haldane and Net-a-Porter founder Phoebe Philo.

McQueen's profile was written up by Oscar-winning 12 Years a Slave actress Lupita Nyong'o. She said, "He's always in search of the truthful moment that will give the audience real human access to difficult issues. He's a visionary in that way."
Haldane, who is an executive at the Bank of England, was included in the "Leaders" section, with British-American journalist John Cassidy elaborates on writing, "Central bankers aren't known as innovators or thought leaders, but Andrew Haldane, a senior official at the Bank of England, is an exception." He goes on to explain writing, "He was one of the first regulators to acknowledge that government bailouts encourage financial institutions to take too many risks, and he said of the Occupy Wall Street protesters, with their criticisms of overpaid bankers, 'They are right.'"
Philo may not be a household name, but you may have come across her online luxury fashion shop Net-a-Porter. Fashion designer Stella McCartney talks about her friend and fellow fashion designer writing, "She and I worked side by side in Paris, the naughty kids from London coming to the house of Chloé." McCartney skips to current day writing about Philo's work saying, "One of the few female designers, she celebrates the simple and champions the quality and reality of a woman's wardrobe. When people invest in her work, they have it for life."
Here's the entire list of Time's 100 Most Influential People.
What do you think of Time's Britished up choices?
See More:
Benedict Cumberbatch's In-Flight Magazine Gold Rush
Benedict Cumberbatch WILL Play Hamlet In The West End
VIDEO: When Benedict Cumberbatch Photobombed U2
Read More
Filed Under: