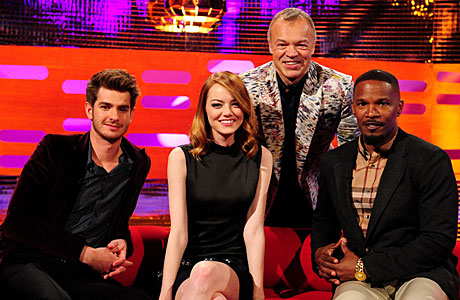 Yesterday, Andrew Garfield arrived in London to promote his new movie The Amazing Spider-Man 2. As you'd expect, there were a ton of interviews to conduct, flesh to press, autographs to hand out, but he also managed to find time for four special appearances that deserve particular mention.
In no particular order (cos we haven't seen his schedule), first he appeared on BBC Radio 1 with co-star Emma Stone, having a dance to "Bamboleo," for reasons that probably made sense at the time:
He then took a trip to Brixton, to meet children represented by the charity Kids City, who provide things for children to do out of usual school hours. Best of all, he turned up in full Spider-Man regalia and played basketball with them, before settling down for a pizza and signing autographs.
(Pics are on Brixton Blog's site)
And then he made a surprise cameo in a Punchdrunk event at the fictional Temple Studios. An audience of 600 saw him come onstage chewing a toothpick in a production of The Drowned Man, which took place in a former office block in Paddington, done up like a Hollywood studio of the 1960s.
The production uses input from the supporting cast, and interactions from the audience, to tell a different version of the same dark tale of love gone bad every night. Andrew is not the first spontaneous guest to appear, the pop star Florence Welch turned up back in March.
Later, Temple Studios even tweeted a dramatic picture of Andrew in his Drowned Man costume, a world away from the fellow jigging to "Bamboleo" earlier on:
.@Temple_Studios saw a special cameo last night. Thanks Andrew Garfield for entering the badlands of #thedrownedman pic.twitter.com/C2IuKHlF5B

— Temple Studios (@Temple_Studios) April 9, 2014
And THEN, presumably quite tired by now, he went with Emma and co-star Jamie Foxx to appear on The Graham Norton Show, which will be shown on BBC America on April 19.
Literally amazing, Spider-Man.
See more:
WATCH: 'The Amazing Spider-Man 2' Trailer Starring Andrew Garfield
Emma Stone Needs To Read Anglophenia
WATCH: 'Spider-Man' Andrew Garfield Recalls His 'Doctor Who' Past
John Barrowman on Andrew Garfield as Spider-Man
Read More
Filed Under: