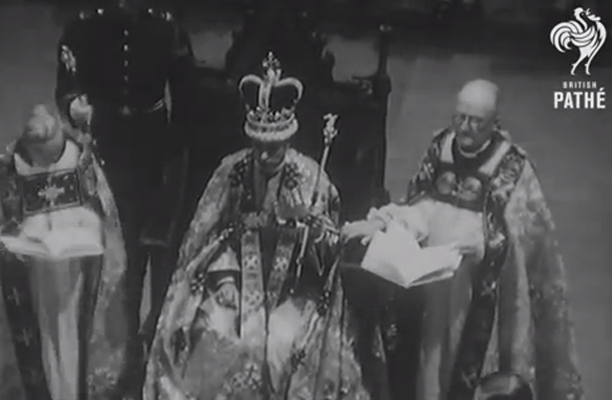 You don't have to be a history buff to be thrilled at this news: British Pathé has posted 80,000–yes, that's 80,000–of its old films on its YouTube channel.
The vast treasury of newsreels and outtakes, shot between 1896 and 1976, include archival footage of British royals, government events, wars, natural disasters, sporting matches, and movie stars and celebrities (many long since forgotten) looking glamorous.
Back in the day, newsreels were shown before films or between movies on a double bill, a form of spreading the news before radio and television and, now, 24-hour cable news stations. In some cities, there were even movie houses that showed only newsreels.
Type the words "coronation" into the search box on the Pathé channel and up pops silent footage from 1911 of King George V's coronation and a 1937 newsreel showing King George VI's coronation. Over the latter footage one hears George VI's speech to the British Empire delivered on his coronation day, in which his slow, hesitant delivery masks his stuttering problem. And here's Queen Elizabeth II's coronation in 1953:
Now type in "Beatles" and you're showered with possibilities, including the Fab Four clowning around and singing in concert in Manchester in 1963, Ringo Starr (sans sound) visiting a hospital to see his new baby, and this wonderfully silly newsreel from 1964 in which the Beatles meet Prince Phillip, the Duke of Edinburgh, for the first time and accept an award from him in London, see below:
Speaking of familiar faces, the folks at Feeling Listless went through the archive and pulled out some Doctor Who-related clips, which you can take a peek at here.
Ever wonder where cricket bats come from and how they're made? There was a newsreel explaining all that from 1962. Want to see British WWII songbird Vera Lynn at home with her hubby and her new baby daughter? She allowed Pathé cameras to film her in 1946; the resulting newsreel is improbably narrated by the baby, though it's an adult male actually providing the voiceover. And want to see a 13-year old Julie Andrews singing "God Save the King" at the London Palladium for King George VI (while she stands in front of American entertainer Danny Kaye)? Here's your chance:
Talk about an embarrassment of riches. The Pathé trove provides hours and hours of viewing pleasure, both educational and just plain fun.
Dip and skip in the channel for yourself. It sure beats most of what's on the regular news shows today.
Which topic do you plan to look up on the Pathé newsreels?
See More:
'Doctor Who's Day Roundup: Watch Newly Released News Archive Clips From Early 'Who'
WATCH: Clips of 1924 and 2014 London, Blended Seamlessly in Short Film
Snapshot: 25 Photos of 1960s London
Read More
Filed Under: