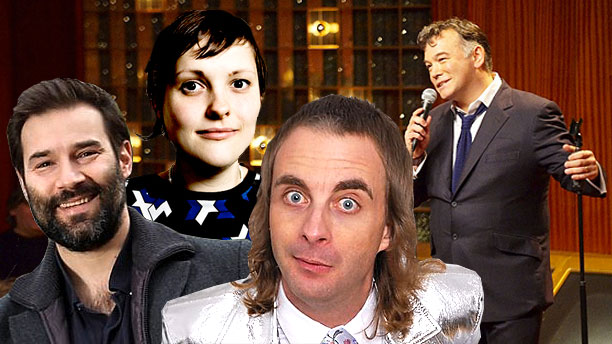 Let's not treat this thing like a test. If you already know all ten of these British mirthmakers (as a companion to the recent Mind The Gap post about American stand-ups) you don't get a pat on the head or a special badge, although you will develop a warm internal glow, so that's nice.
For everyone else, we urge you to become intimately familiar with everyone on this list as a matter of some urgency. Your lives will be immeasurably improved by the experience.
Note: for further information on any of the performers listed, click on their names.
Viewers of the HBO series Family Tree will already know Nina and her puppet monkey called Monk, but for everyone else, here she is taking ventriloquism to new heights by using people as puppets. If you get the chance, find her documentary A Ventriloquist's Story, which mixes bits of her stand-up with a genuinely affecting biographical story in which she takes the puppets bequeathed to her by her mentor and former lover Ken Campbell to a gathering of ventriloquists called Vent Haven. It's a thing of rare beauty.
It does the comedy of Stewart Lee no favors whatsoever to cut it down to a brief segment like this. His delivery is slow and deliberate, his conceits subtle and thoughtful (but still daft, he's a comedian after all). Stewart has just finished a third series of his beautifully delivered BBC series Comedy Vehicle, in which he painstakingly takes apart sections of popular culture (including the work of fellow comedians) with slow, repetitive strokes. Not unlike a surgeon scraping away at a cyst with a wooden spoon.
It took a very, very long time to find a clip we could use of Stewart Lee's former comedy partner, and this is almost entirely because his approach to cultural taboos—whether that's religion, sex or basic taste—could charitably be described as "playful" and uncharitably be described as "deliberately provocative." Not that he's out to create a stink; it's just that he's a natural comic provocateur. He's also taken the time to interview as many current comedy stars as possible for his Leicester Square Theatre podcasts, which are always a delight, so if you do want to discover other British comedians, that's a great place to start.
Pitchfork-reading indie types go a bit soppy for young Josie, because she is to stadium-filling laughter behemoths like Russell Brand what Riot Grrrl was to hair metal. And every bit as funny too. Fittingly she also does cartoons and fanzines and is effectively a one-woman creativity factory.
There can sometimes appear to be a gulf between the kind of British stand-ups that observe everyday life and likably comment on it, and those that take a more poetic and occasionally obtuse approach to their craft. Some comics, like Sean and Jason Manford, appear to be in one camp while presenting ideas and performances that belong firmly in the other.
https://www.youtube.com/watch?v=MDaGGcmIwCE
Simply reading other people's YouTube comments out loud should not be this funny. It's partly the concerned and helpful manner with which Adam explains his reasoning, and partly the unhinged logic of the comments themselves. And that's not Adam's only trick, having begun his comedy career alongside Attack The Block's director Joe Cornish larking about making spoof TV shows using toys for The Adam & Joe Show. They progressed to a BBC radio show on 6Music, and a hugely popular podcast, before Joe's movie career took him away, leaving Adam with just the internet for company.
Being funny is hard enough, but being funny with a guitar around your neck is a Herculean task. Isy Suttie—as well known in Britain for her appearances as Dobby in the Channel 4 comedy Peep Show—is one of the few stand-ups who don't use their musical prop as a shield to hide behind.
People cast upper-crust Brits as villains in movies for a reason. It's because they have the cold logic and compassion-free demeanor of people that have always been on top. Miles Jupp is one of a few stand-ups—see also Simon Evans, Jack Whitehall—who currently take full advantage of this aristocratic bearing for comic effect.
It's safe to say that if Paul Foot were not dressed like he just stepped off the set of a Romanian remake of Ghostbusters, and spoke less like a sleep-talking Lord of the Manor, some of his comic mojo would be dissipated. But as it is he joins a long line of eccentric British entertainers whose personalities are an enormous part of their act; including Ivor Cutler, Vic Reeves and the great Vivian Stanshall.
An easily angered man in a world of tiny irritations, a perpetually perplexed punter trying not to lose his temper when faced with the complexities of the modern world and failing badly, Rhod Gilbert's short fuse is as legendary as his verbal dexterity, so he can rant for hours over the tiniest of things.
See more:
'Veep' Fans: A Guide to Armando Iannucci's Comedy
WATCH: Steve Coogan and Rob Brydon Simultaneously Impersonate Michael Caine in 'The Trip to Italy' Trailer
'The Thick Of It' Takes "Omnishambles" All The Way To The Dictionary
Armando Ianucci: "Not All Americans Are Brilliant"
Read More
Filed Under: