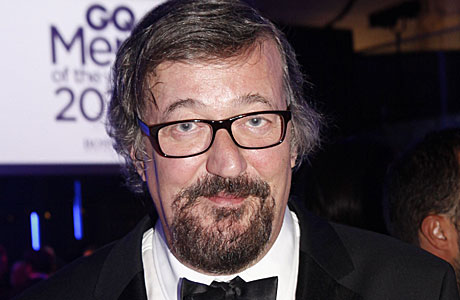 In case you're unsure whether British TV viewers are aware of the magnitude of David Letterman's achievements, or even who he is, be assured we most certainly are and do. Even though Late Show hasn't had a firm slot on our screens, so many British producers and presenters took the spirit of David's interview technique, his friendly jibes, his serious levity and light-hearted gravitas, and applied them to their own, he's been a familiar presence for years.
In fact, it's arguable that, as the best of modern British chat show hosts owe more than a little debt to David Letterman, some of them would even be worth considering as his replacement.
Let's have a look-see, shall we?
Craig Ferguson
Imagine what a victory it would be for nerd culture if Craig, a man whose passions for stuff Anglophenians like are many and various, presented Late Show! OK, it appears this may have already been counted out as a serious possibility, but that does not mean we should not loudly support the suggestion. If nothing else, it would guarantee more Doctor Who interviews on American TV, and if he gets The Late Show, that leaves The Late Late Show slot open for John Oliver, so everyone's happy.
Stephen Fry
Everyone loves Stephen Fry, don't they? I mean sure, there are times when he appears to be entirely uninterested in popular culture, so maybe his interview technique would need a little work when faced with, say, Ke$ha or that guy that did "Gangnam Style," but the opening monologues would be exceptional in quality, and very probably educational too.
Sue Perkins
Whenever there's a rumor that someone is about to be replaced in a TV thing, Sue Perkins' name comes up. It was like this with Doctor Who, so why should Late Show be any different? And as fans of The Great British Bake Off are well aware, Sue is all sly charm, subtle flirtation and sharp wit, just like David himself.
Jonathan Ross
One of the British crop that most vocally admits to having been influenced by Letterman's panache and dry wit, Jonathan has been fronting chat shows since 1987, is always charming company—albeit slightly ribald at times—and appears to be unfazed by the size of his celebrity guests. He does, however, have a tendency to run at the mouth, which could be a good thing or a bad thing, depending on CBS's need to keep people talking about the show.
Here he is interviewing the next person on our list:
Sarah Millican
Not, perhaps, as familiar a name as some of the others on this list, but Sara's fast becoming a British treasure. She has a filthy mind, which may cause problems, and a Newcastle accent that some people will pretend they don't understand (Cheryl Cole springs to mind), but that doesn't mean she should be counted out. She's also good at starting a conversation from quite a mumsy, comfortable place and making it outrageously rude, while maintaining the face of pure innocence.
Graham Norton
Slightly less subtle in his excitement, and none the worse for it, Graham brings enormous enthusiasm to the table, so we've cheated a bit and allowed him on the list even though he is Irish. He also possess a willingness to force his guests to interact in a way they may not have been prepared for. He should definitely demand that Miriam Margolyes appear on a bimonthly basis as part of his contract negotiations. Not that we want him to leave BBC America, of course.
Emma Thompson
Because who can honestly say they would not like to see Emma take a firm line with some of Hollywood's more wayward talents? A strong word here, a momentary dig there, and she'd have Justin Bieber behaving like a model citizen quicker than you can say Mary Poppins.
Rob Brydon
Gavin & Stacey's Uncle Bryn, and a relatively experience chat show host too, Rob brings a lot of warmth and charm and may even insist on a few musical numbers with his guests. Get Steve Coogan on as a regular foil, set them up with a few impersonations to do and some wry digs at one another and you don't even need to spend a huge amount of time booking further celebrity guests.
Nina Conti
A practical choice, given that Nina is a remarkable ventriloquist. Should she be faced with a recalcitrant star, or someone that was otherwise unwilling to give the quotes and stories agreed before the show began, Nina could just throw her voice and make them say whatever she wants. Look, like this:
David Mitchell
The angry Stephen Fry. Because sometimes you need to be able to rebuff your interviewee's more nonsensical ideas with a smidgeon of tough logic. Granted, some people will react badly to being flayed and flattened in this way, but it would definitely be entertaining to watch.
Russell Brand
Well, let's just say people would definitely watch it, and they would definitely talk about it immediately afterwards on social media. And most of the next day at work. And then all of the following week, until CBS is forced to respond to public outcry at something outrageous Russell has said, or done, or said. In fact, the only person who could cause more attention—good and bad—to rain down on Late Show's shoulders would be Ricky Gervais.
See more:
WATCH: Benedict Cumberbatch, Harrison Ford Play Coy About 'Star Wars' Film on 'Graham Norton'
Olivia Colman Is The Queen Of The BAFTAs
'The Graham Norton Show's Five Most Frequent Flyers
British Celebs You Should Follow on Twitter: Talk Show Host Edition
Read More
Filed Under: