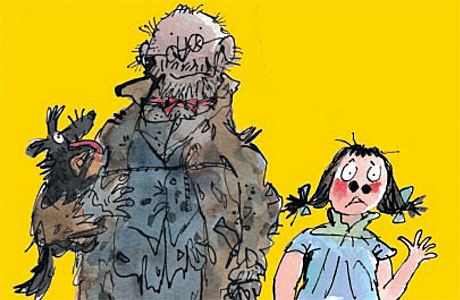 It's not nice to talk down to people, so if you are of any age between ten and twenty and any of these suggestions are simply too young for you, that is fine.
But there is a skyful of exciting worlds to explore, a galaxy of astonishing British literature for children who are old enough to read for themselves, but not so old that they're ready for adult themes, extensive swearing or a heap of violence.
Let's start with the hippogriff in the room:
Harry Potter and the Sorcerer's Stone – JK Rowling
You may have seen the movies, you may be watching Daniel Radcliffe and Emma Watson's careers with keen interest, but if you have not read the Harry Potter books, you're missing JK Rowling's kind, indulgent and sometimes mischievous tone of voice. These books are notable for being one of the few acceptable ways children can hear mild curses—"bloody hell, Harry!"—from the salty mouth of Ron Weasley.
Stig of the Dump – Clive King
A proto-recycling classic of children's literature, first released in 1963, in which a young lad called Barney makes friends with an actual caveman, who lives in the rubbish dump near his house, and has made a home out of all of the bits and bobs he has found there.
Goodnight Mr Tom – Michelle Magorian
The Second World War was a time of huge upheaval for British families, not the least of which was the evacuation of children living in London and other major cities to rural areas. This is the story of Willie Beech, a young lad whose relationship with his mother is less than rosy. He is sent to live with a grumpy old recluse called Mr Tom, and the two form an unlikely alliance.
The Railway Children – E. Nesbitt
Another tale of displaced children, this time in the early 1900s. Their father has been arrested for a crime he did not commit, and the whole family has to move out to the country, near a railway line, a railway station, and a tetchy-but-kind station manager called Perks.
Danny the Champion of the World – Roald Dahl
Everyone has their favorite Roald Dahl, whether it's Fantastic Mr Fox, Charlie and the Chocolate Factory or Matilda. Mine is Danny, the Champion of the World, in which the son of a poacher manages to outwit the local landowner, Mr Hazell, by pinching his pheasants before the big fancy shooting party, and getting them to poo on his car.
Mr Stink – David Walliams
The current heir to Roald's crown of grotty glory. This is a tale of a tramp that uses rabbit poo for earplugs, and smells so disgusting that no one will go near him. No one, that is, except Chloe, the daughter of a local would-be politician and her failed rock star husband. Shenanigans ensue.
War Horse – Michael Morpurgo
The idea of taking a beautiful horse into the carnage of World War I seems so monstrously cruel to modern eyes that it becomes possible to see the whole conflict for what it really was on both sides of No Man's Land. And it shows both what cruelties and what kindnesses men under imaginable stress are capable of.
The Story of Tracy Beaker – Jacqueline Wilson
Tracy Beaker lives in a care home because her mother couldn't look after her properly. The care home is affectionately called the Dumping Ground, because the children that live there feel like they've been thrown away. Does this mean they will try to be as delightful and charming to any grown-ups they happen to meet? It does not.
Fungus the Bogeyman – Raymond Briggs
A damp, mucus-filled trip around the marshes of mouldy and dim underground society, from which Fungus the Bogeyman emerges to scare the living daylights out of human beings (he calls them drycleaners, because they are dry and clean). But being an affable soul by nature, his heart isn't really in it.
The Lion, The Witch and the Wardrobe – CS Lewis
Let me let you into a little secret: people make a lot of fuss about the allegorically Christian nature of this story, but it's not that easy to spot, even if you're really looking for it, and especially not if you're young, and besides, the redemptive attention of a magical creature that nearly dies for the sake of the kids and then promises to return one day is a staple of children's literature (and the song "Frosty the Snowman"). Let Narnia be Narnia, and when the kids are a little bit older, dig out the Philip Pullman books as a counterweight.
See more:
10 British Children's Books That Every Young American Kid Should Read
Five British Champions Of Children's Literature
Judi Dench and Dustin Hoffman to Star in Roald Dahl's 'Esio Trot' for BBC
10 Famous Brits Who Were Heroes In World War II
Read More
Filed Under: