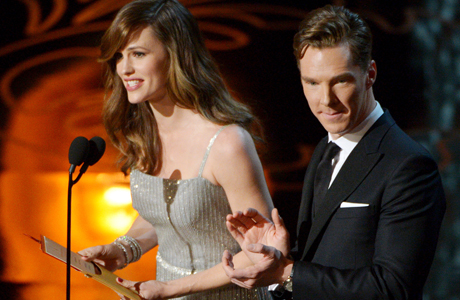 You'll read a lot today about the various dresses worn by famous actresses, directresses, camerawomen and hair-and-makeupatrixes at the 2014 Academy Awards. It's a very common reaction to any event of this sort. The nice dresses are racked up on one side of a line, and the non-nice dresses are racked up on the other, and everyone has a nice time working out whether the line is a just line or an unjust line, and throwing around the word "oops!"
However, this is not usually the kind of blog that would seek to draw such a line, not least because a lot of our favorite actors and actresses have to wear preposterous or eccentric outfits—from fezzes to deerstalkers to that two-horned Loki hat—for their jobs, and we love them for it.
But that's not to say standards are not applied, especially when when sartorial standards are thrown aside with no respect for the decorum or gravitas of the event itself.
I am not referring to Pharrell Williams and his shorts-suit, or any of the gentlemen actors that choose not to shave before leaving the house. No, the worst, most shocking fashion 'fail' of this year's Oscars occurred when Benedict Cumberbatch elected not to pull his tie up, thereby embarrassingly exposing the band and button of his shirt collar for everyone to see.
Look, here he is arriving on the red carpet: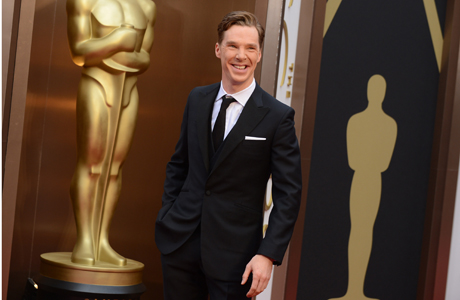 A shocking display. And here he is attending the Vanity Fair post-awards party, some time later:
See? There it is again. And it's not as if he doesn't know how to groom himself. Take a look a the picture right up at the top there with Jennifer Garner. As soon as he has to take to the stage, there's no sign of collar band, no hint of button. Either someone has helped to tidy him up, or he's done it himself.
Point the TV cameras elsewhere, and he displays the kind of appalling sartorial slackness one would expect of someone involved in, say, local politics or even sport.
And it's not even as though a loose tie is more comfortable, not while that top button is still firmly done up.
So, y'know… "oops!" and also "what was he THINKING!!?" et cetera.
See more:
Benedict Cumberbatch Photobombs the Oscars, '12 Years a Slave' Wins Best Picture
PHOTOS: Benedict Cumberbatch and Michael Fassbender's Wild Golden Globe Weekend"
WATCH: Michael Fassbender Spends Entire Movie Inside a Big Fake Head
Read More
Filed Under: