What do Super Bowl winners Osi Umenyiora, Scott McCready and Lawrence Tynes have in common?
They were all born in Britain.
Now when you think of the "big four" American sports your next thought most likely isn't: Wow! There have been some really great British players. But did you know that 51 players born in the United Kingdom have played in the NHL? Or that three Welshmen have played Major League Baseball?
Here's a look at the current crop of British expats making a name for themselves in the major leagues:
Menelik Watson (Oakland Raiders – NFL)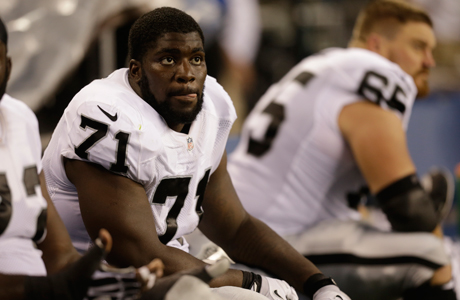 The story of Menelik Watson is surely going to be made into a feel-good, rags-to-riches Hollywood blockbuster. Raised in the poor, crime-ridden Manchester suburb of Longsight, Watson was sometimes so hungry as a boy that he would steal packets of ketchup and butter from the school canteen just so he had something to eat.
Watson grew up dreaming of one day playing soccer for his beloved Manchester City, but at 12 years-old a freak accident during a kick-around with his mates saw him break his ankle. The doctors told him it was too dangerous to ever play soccer again. Not discouraged, Watson took up basketball and was so naturally gifted that before long, he was playing for the youth team of the semi-professional Manchester Magic. It was while playing for the Magic that Watson was spotted by an American coach named Rob Orellana. Orellana was so impressed by Watson's panache on the court that he brought him to his basketball academy in the Canary Islands. In 2009, Watson's potential helped him secure a scholarship at Marist College in Poughkeepsie playing Division One basketball in the NCAA.
For one reason or another things didn't work out for Watson at Marist, but Orellana wasn't yet ready to give up on the boy. Next they tried boxing. Orellana believed Watson had all the attributes required: light and quick on his feet with Popeye-like strength in his arms, but a life in the ring just wasn't for Watson.
American football was the last roll of the dice, but this time Watson found his true calling. There were teething problems, like not knowing the rules or how to put his pads on, but in 2011, aged 22, Watson played his first game of American football for Saddleback College as an offensive tackle. Two years later he was picked by the Oakland Raiders in the second round of the 2013 NFL draft. It has been a truly remarkable rise from the gritty streets of Manchester to the dizzy heights of NFL superstardom.
Luol Deng (Cleveland Cavaliers – NBA)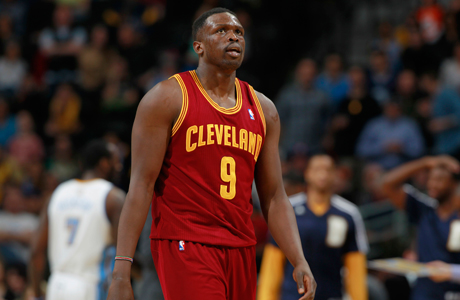 Ask any Englishman to name the most famous British sports star ever to ply his trade in America, and they will almost certainly respond: "That's easy guv, David Beckham innit…" or words to that effect. Ask an American the same question and the chances are they'll tell you it's Luol Deng. Indeed, a year after Golden Balls signed his five-year $30 million deal with the LA Galaxy in 2007, Deng put pen to paper on a six-year contract with the Chicago Bulls worth $70 million.
Born in war-torn Sudan in 1985, Deng was forced to flee the country along with his mother and eight siblings in the early 90s after his father was arrested and imprisoned for political reasons. The family found temporary refuge in Alexandria, Egypt, before eventually being granted political asylum in England when Deng was 10-years-old.
The reunited family settled in Brixton, but things weren't easy for Deng at first (understandable considering he only knew a handful of English words). Before long though, Deng found an identity through sports as he developed into a supreme athlete, shining in both soccer and basketball. It was the latter in which he excelled though, and at age 13 Deng led England to the finals of the European Junior National Championships where he was voted tournament MVP. It was only a matter of time before America came knocking.
The following year, 1999, America knocked and Deng left England to attend Blair Academy in New Jersey where his game grew from strength to strength. After graduating, Deng attended Duke University and one year later entered the 2004 NBA draft (he was picked seventh by the Phoenix Suns but was immediately traded to the Chicago Bulls where he went on to become Barack Obama's favorite player). He is the only Brit ever to be named an NBA All-Star. Not bad for a kid from Brixton.
Lawrence Okoye (San Francisco 49ers – NFL)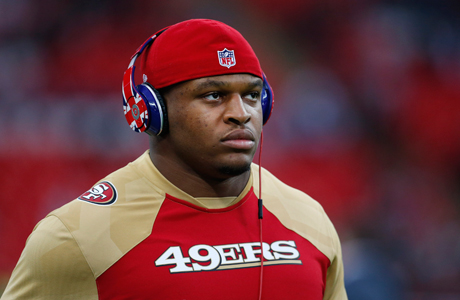 There are some people that are just good at everything they do. Lawrence Okoye is one such person. A rugby union star in his teenage years, Okoye was signed to Premiership side London Irish's youth academy. At age 18, he decided to take up the discus. Two years later he was representing Britain at the 2012 Olympic Games. Did I mention that while all this Olympian nonsense was going on he was offered a place reading law at Oxford University?
In February 2013, Okoye was invited to tryout at the Super Regional Combine in Texas, a scouting program that gives young players the opportunity to showcase their talents in front of NFL coaches. Okoye impressed: running the 40-yard dash in under five seconds, scoring 36 inches on the vertical jump and bench-pressing 30 reps. On April 27, Okoye was signed by the San Francisco 49ers. Nobody appeared troubled that Okoye had never played American football before in his life.
Okoye appeared in three pre-season games as a defensive end for the 49ers before a knee injury halted his progress. He was then placed on the injured reserve list for the rest of the 2013 season. During interviews Okoye has been the first to admit that he has a lot to learn about the game, so he has used his recovery time to study up by watching videos and learning the rules, all of which should see him raring to go by the time the 2014 season kicks off. If his football career doesn't work out, however, there are always the 2016 Olympic Games. Or rugby. Or studying law at Oxford.
Other notable British athletes to make it in major league sports include:
George Hall (MLB)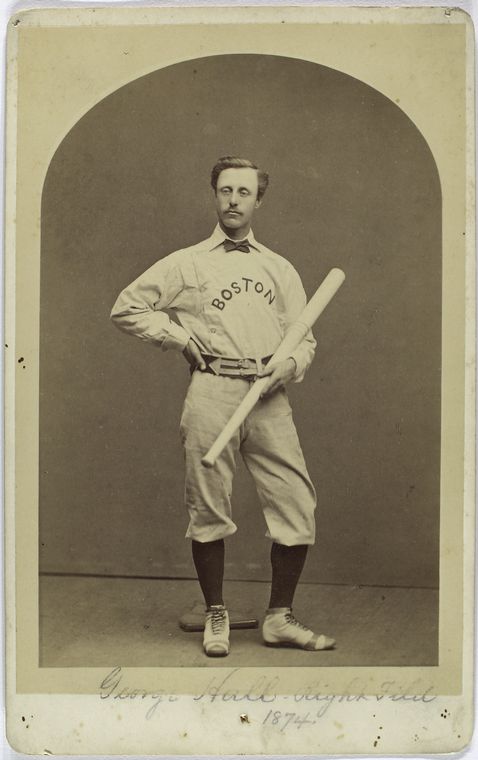 Born in London in 1849, George Hall was a trusty batsman who became the first MLB player to hit two home runs in one game. Unfortunately, an 1877 match-fixing scandal that saw Hall throw a game for a $25 bribe led to a lifelong ban. He later took up a new career as an engraver.
Bobby Thomson (MLB)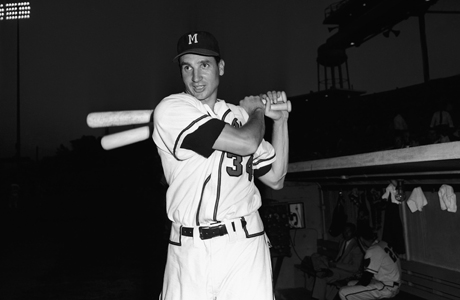 Bobby Thomson was born in Glasgow in 1923 and emigrated with his family to New York in 1925. Nicknamed "The Staten Island Scot", Thomson hit 264 home runs in a glittering 15-year MLB career, which saw him don an All-Star jersey three times.  However, he is best known for his "shot heard around the world" – a celebrated home run he hit for the New York Giants against their arch rivals, the Brooklyn Dodgers, in the 1951 National League playoff.
Charlie Gardiner (NHL)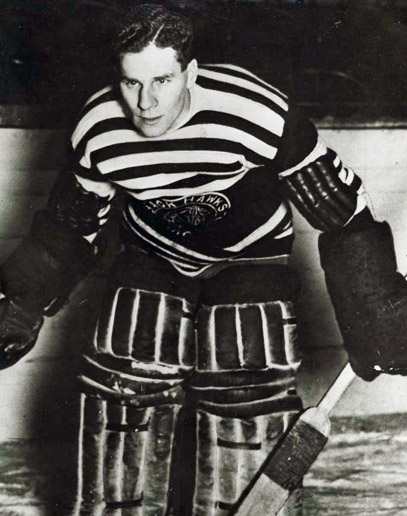 Another Scotsman, Charlie "Chuck" Gardiner was born in Edinburgh in 1904 and went on to become one of the greatest goalies in NHL history. He immigrated to Winnipeg with his family at age seven in 1904. As he didn't learn to skate until he was eight-years-old, Gardiner was forced to play goalie because he wasn't as quick on the ice as the other kids. He is the only NHL goaltender to captain his team to a Stanley Cup victory, which he did with the Chicago Black Hawks in 1934.  Sadly, he died a few months later from a brain hemorrhage aged just 29.
Owen Nolan (NHL)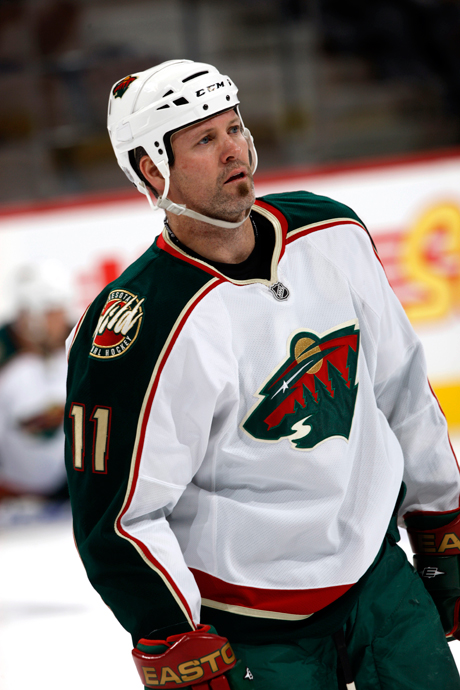 Owen Nolan is without doubt the best ice hockey player ever to be born in Northern Ireland (there's only been a handful, mind you). Born in Belfast in 1972, Nolan was raised in Thorold, Ontario. Nolan never won a Stanley Cup but as he was eligible to represent Canada internationally he did so in the 2002 Olympics, taking home a gold medal. He played in five NHL All-Star games before retiring in 2012.
See more:
Supersizing Soccer: What Britain's Premier League Could Learn From U.S. Sports Culture
The Brit's Guide to Being an American Sports Fan
Read More
Filed Under: