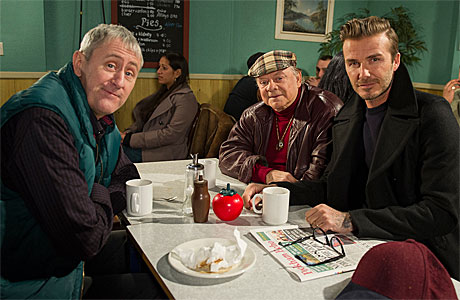 It's kind of hard to tell, and possibly impossible to find out definitively, but this might be a thing that only British people think is significant. One of our greatest footballers (meaning soccer) appearing in a specially commissioned sketch set in on one of our best-loved TV shows.
Let's just say there are quite a few British people that are excited about this, and if you'd like to join them, you'd be made very welcome.
So, the story is that David Beckham has filmed a skit with Sir David Jason and Nicholas Lyndhurst in their Only Fools And Horses finery for the BBC's Sport Relief telethon on March 21.
There's even a trailer for it, and it is here:
Speaking on the BBC's Michael McIntyre Show recently, Sir David revealed that the sketch was all David Beckham's idea: "He said he had always loved Only Fools And Horses and that it would be great to do something with me and Nick. So then the grapevine started to work as these things do."
But sadly John Sullivan, the show's writer and creator, had died in 2011, so there was some concern as to whether they could come up with strong enough ideas for it:
"Once I read the script that they intended to do, and I said yes I would do it, it was so much of Sullivan and so much of Only Fools And Horses the original, that I said, 'Yes, let's do it.'"
"When I got together with Nick for the first run-through it came back like that. I didn't even have to think about it. It's like anything, it's like falling off a log. As soon as I put on the gear and started to look at the script, back it came."
And although it was his idea, and they had the script they wanted, that doesn't mean David Beckham was entirely comfortable walking into that situation.
He told Radio Times: "I'm a huge fan of the show. I have been for many years, as far back as I can remember. Being from the East End of London, it's what I was brought up on.
"The day of filming started off with a slightly sleepless night, going over my script. The thought of being on set with Nicholas and David was obviously very nerve-racking."
And eagle-eyed fans will spot that he's hardly a natural actor either: "I've never done anything like this before, especially with two people I'm really in awe of and have been for many years. It wasn't just about learning the script, it was about delivering it; saying the right things at the right time."
Which you have to admit, has never really been his strong suit.
See more:
Only Fools, And Horses, And David Beckham
RIP Roger Lloyd-Pack: Five Of His Greatest Roles
A Very British Christmas Part 10: Five Great TV Specials
Five Great British Things The Americans Ruined
Read More
Filed Under: