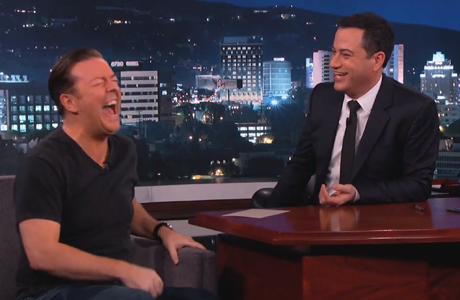 British funny man Ricky Gervais stopped by ABC's Jimmy Kimmel Live on Wednesday (March 5) to promote his new movie with the Muppets and to trade favorite phrases that sound dirty but aren't with host Jimmy Kimmel.
In Muppets Most Wanted, which opens March 21, Gervais joins Tina Fey, Modern Family's Ty Burrell and various furry puppets in an international caper comedy.
Gervais did three segments on Kimmel, during which the host praised his guest lavishly for his work in The Office, a favorite Comic Relief video in which Gervais pretends to be in Africa, and for his Derek series, currently available on Netflix. Of the last, Kimmel said that it had made his parents cry—in a good way.
In the first segment, Gervais has a good laugh when Kimmel shows off a picture of a svelte young Ricky back in the 1980s when he was doing his best David Bowie imitation as a member of a rock band. In the second–and this one's NSFW–the two men crack each other up exchanging favorite phrases, such as "Spam sandwich" and "tradesmen's entrance," that sound rude but aren't. And in the third, Gervais discusses his lifelong love of the Muppets and how he preferred working with puppets to humans.
Take a look:
Before the show started, Kimmel promoted Gervais's appearance by tweeting a highly unflattering backstage photo of the comic actor hamming it up:
Backstage at #Kimmel. Tune in tonight 11:35|10:35c on ABC with @RickyGervais pic.twitter.com/gDjcbXxgIq

— Jimmy Kimmel Live (@JimmyKimmelLive) March 6, 2014
Do you want to see Ricky Gervais in Muppets Most Wanted?
See More:
Twitter Poll: Who's Better Looking … Ricky Gervais vs Johnny Depp
WATCH: First Look at Ricky Gervais in the New Muppets Movie
Vivienne Westwood Designs Miss Piggy's Wedding Dress
Read More
Filed Under: