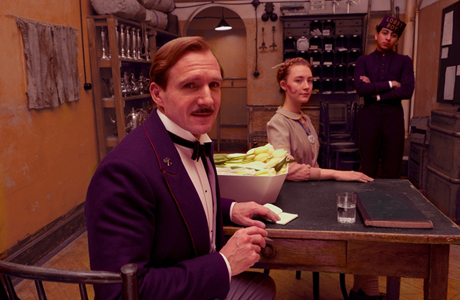 For an actor best known for dramatic roles, Ralph Fiennes has been winning praise for his comic turn portraying a flamboyant concierge in director Wes Anderson's new period film The Grand Budapest Hotel, which opens on Friday (March 7).
Fiennes plays Gustave H., a man who delights in serving others, at a hotel in a fictitious European country in the early 1930s. He is a vivacious man with many different aspects to his character, which drew Ralph Fiennes to the part.
"He swears," he says. "He's fastidious. He's a bit vain. He's caring. He's loyal. He has temper tantrums. I mean, the whole package on the page was funny and entertaining."
Director Wes Anderson says the picture was inspired in part by the writings of Austrian-Jewish author Stefan Zweig, who witnessed the rise of Nazism. As the dark clouds of a more oppressive future gather, Fiennes character emerges as a man of principle: "It's about loyalty and friendship and the forces of brutality and oppression…I think it's about how someone stands up to them on a point of principle."
The film boasts a talented cast with several British actors—among them Jude Law, Tilda Swinton and Tom Wilkinson.
The Grand Budapest Hotel is very much a Wes Anderson film—after all, he is an auteur director—but it really belongs to Ralph Fiennes because he gives one of the best performances of his career and is clearly have a great time doing so.
See more:
Ralph Fiennes on Directing: 'Everyone Was Watching to See If I'd Be Overwhelmed. I Was Determined Not To Be'
Ralph Fiennes Follows Tradition of Updating Shakespeare in 'Coriolanus'
Read More
Filed Under: