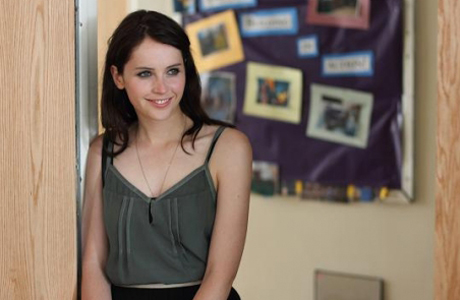 British actress Felicity Jones has a role in the forthcoming Spider-Man movie but she won't really talk about it. It's her first big Hollywood film and it's been widely reported that she plays a villain. But she just politely declines to comment: "I cannot reveal anything, I had a great time working on it." In fact the actress confirms she had to sign papers not to disclose any details of the film. If The Amazing Spider-Man 2 does do well it could finally bring this very talented British actress international recognition.
She is much more forthcoming about her role in the just released Breathe In in which she stars opposite Guy Pearce as a British exchange student who becomes a bit of a homewrecker destabilizing the American family hosting her.

The film is a companion piece of sorts to Like Crazy, a low budget love story, which like Breathe In was directed by Drake Doremus. Like Crazy put Jones on the map. It brought her an acting prize at the Sundance Film Festival in 2011.
The character that Jones plays in Breathe In isn't exactly full of good intentions, but the actress welcomed that. "It's nice playing someone who maybe morally isn't always acting in the best way. There is something quite anarchic about her."
The actress has an impressive list of credits to her name, among the more recent is playing Nelly Ternan, Charles Dickens' secret mistress, opposite Ralph Fiennes in The Invisible Woman. She received a lot of praise for that role, and there was even talk of a possible Oscar nomination early in awards season.
One special acting memory for Jones was when she appeared in an episode of Doctor Who in 2008.
"I was a unicorn, the episode was called 'The Unicorn and The Wasp.' I was a jewelry thief. It was great," she says.
The actress finds The Doctor to be a very compelling figure: "It's his character isn't it, you can never quite get a hold of him. There's something just deeply enticing about that creation."
Breathe In opens in New York cinemas on March 28th.
What do you think of Felicity Jones' latest role?
See More: 
Felicity Jones Lets the Cat Out of the Bag on 'Amazing Spider-Man 2'
WATCH: 'Like Crazy' Star Felicity Jones Returns to Sundance
WATCH: Felicity Jones Talks Dickens, Warren Beatty, and Her Oscar Chances
Read More
Filed Under: