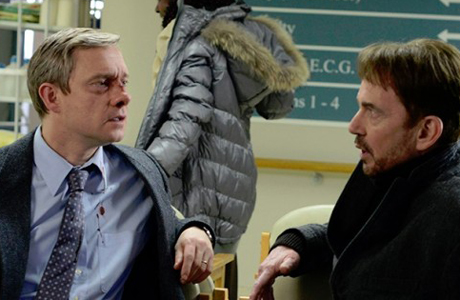 FX has been having some fun, teasing us with bits of their new series Fargo. But FX is finally giving us something to chew on with an actual trailer to the TV sequel to the Coens brothers' 1996 film.
The show premieres on Tuesday, April 15, picking up the day after the film ends. In the trailer we find Lester Nygaard (Martin Freeman), an insurance salesman, and Lorne Malvo (Billy Bob Thornton), a shifty drifter, sitting in a hospital waiting room. Nygarrd has his nose bashed in and two black eyes.
Freeman sighs to himself, "What a day." Thornton's character doesn't hold back point blankly saying, "If that was me. I would've killed that man."
Thornton's character seems to be in Freeman's ear the rest of the series saying things like, "If you don't stand up to the boss. The wife. You're just going to get washed away."
You can just see the wheels turning in Nygaard's impressionable head. Malvo is there to provide him with some guidance, grim as it may be.
The Coen brothers executive produced the limited series and were directly involved with FX in the development process.
It'll be fun to watch the diabolicalness play out on in weekly installments.
You can watch the trailer below:
What do you think of Martin Freeman's Minnesota accent? 
See More: 
Martin Freeman Signs Up For 'Fargo' TV Series
WATCH: Martin Freeman Sitting On A Dryer With Black Eyes
Life Outside 'Sherlock': Martin Freeman
Read More
Filed Under: