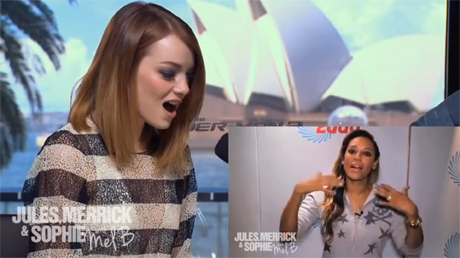 If you were a nerdy little teenage boy in Mississippi pre-teen girl in the late '90s, the Spice Girls were the live-action cartoon band pre-fabricated for your needs. Both Emma Stone and Zoë Kravitz would have been eight years old when "Wannabe" crossed the Atlantic and hit No. 1 on the Billboard Hot 100 back in 1997, and they clearly were not immune to the candy-colored lure of Girl Power.
Ms. Stone got seriously verklempt during an interview with Australia 2Day Down Under today (March 20) for Amazing Spiderman 2: Rise of Electro when Mel B., better known as Scary Spice, sent the 25-year-old star a special video message. "Oh my god, I'm so excited. I'm legitimately crying. I'm the biggest Spice Girls fan ever," she said, fanning her reddening face. And then, egged on by the 2Day co-hosts, she bust into the rap section of "Wannabe" as a way of proving her Spice Girl bonafides. OK, so it wasn't a lyric-perfect rendition, but we'll give her the benefit of the doubt for nerves. Watch below.
And Kravitz, daughter of the two of the most beautiful specimens the world has ever seen (rocker Lenny Kravitz and Cosby kid Lisa Bonet), let her Girl Power flag fly on last night's Jimmy Kimmel Live! (March 19). When asked if she grew up on her father's music, Kravitz said, "I was trying to rebel a bit, so I was listening to what young people listened to. I liked the Spice Girls. I was obsessed with the Spice Girls." As for her favorite of the Fab Five, Kravitz replied, "I liked Baby Spice, but in case you didn't notice, I'm black. My friends were all like, 'You like Scary Spice. You want to be Scary Spice, right?'"
http://youtu.be/Q3zovp-y2Ig?t=20s
Mel B. must be feeling quite low right now.
See more:
Emma Stone Needs To Read Anglophenia
The Spice Girls Musical Won't Last Forever
Read More
Filed Under: