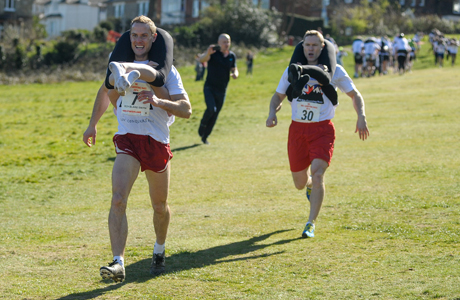 The 7th Annual U.K. Wife Carrying Race took place on Sunday, March 16 in Dorking, England, reports The Associated Press. The course is 380m (.2 miles) with 15m (49 feet) of ascent and 15m of descent.
The first place winners, Rich Blake Smith and his partner Anna, completed the course in 2 minutes and 0 seconds. The second place couple, Vytautas Kirkliasuskas and his wife Neringa, traveled from Lithuania to compete.
Smith stopped for a chat after the win saying, "We put in a whole week's work in running around the athletics track near where we live. And it's paid off, hasn't it?"
At first glance someone might think, "What! This is so barbaric. Women can walk. They don't need to be carried." But before anyone gets their knickers in a bunch, the competition is open to men carrying women, women carrying women and women carrying men. The term "wife" is used loosely in this case. You don't even have to be married actually.
The course is pretty short but we have to remember, the runner is carrying someone whether by piggyback or with the "wife" hanging upside down from the runner's shoulders. The course is riddled with obstacles like hay barrel hurdles and water hazards.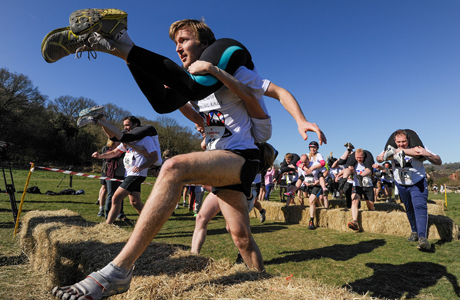 "All the participants received a mini-keg of Pilgrim real ale, from the Pilgrim Brewery in Reigate, as well as a medal and Wife Carrying t-shirt. The winners won a barrel of ale and £250 ($416) toward competing at the World Wife Carrying Championships in Finland in July," according to the U.K. Wife Carrying Race website.
In the below video we get to meet some of the competitors, including an American couple, and hear about their strategies. Before the race kicks off the organizer announces, "If you feel like you are going to have a heart attack, you probably are. Give up. And call for help."
There are definitely a lot of giggles heard throughout the race, which you can watch in its entirety below:
Is this something you can see yourself doing?
See More:
WATCH: American Wins Annual Cooper's Hill Cheese-Rolling Race
WATCH: Parliamentary Pancake Race
Read More