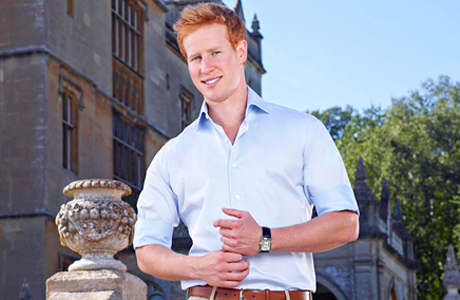 American Idol's Ryan Seacrest and Fox have teamed up for a new reality show, called I Wanna Marry Harry, which sends 12 unsuspecting American women to the U.K. to compete for love, reports Good Day New York.
Which Harry are they talking about? There's One Direction's Harry Styles who is quite popular in the U.K. 1D's Harry has his hands full with all of his suitors and this time around, the focus is on His Royal Highness Prince Henry Charles Albert David of Wales, aka Prince Harry.
Needless to say, the Queen's grandson is not actually appearing on the show and it's lookalike Englishman Matthew Hicks the women are vying for. Hicks is not an aristocrat and just a typical English bloke. Prior to this gig, Hicks was being confused for the young prince left and right. The Southampton University alum told the school paper, "I got a fair amount of 'Harry' attention through uni but neither me or my mates took it very seriously, it was just a bit of a running joke."
When traveling abroad the attention became intense which inspired Hicks to post his picture on a lookalike website for possible part-time work. He was hired for a Queen's Diamond Jubilee concert in Geneva, signed on to appear in a promotional video for Ice Age 4 filmed in London and a few club promotions. In the interview with the school paper he mentions having a meeting about an upcoming "TV job in the pipeline." Oh dear.
Hicks is a natural blonde but chooses to die his hair ginger to keep up the lookalike biz.
Yes, the two men both have red hair (sort of). Yes, about the same height. Yes, about the same build. But really?
The women will be jetted off to England and all live in the same house in true reality style. In this case, it's an estate called Englefield House in Berkshire.
Good Day New York co-anchor Rosanna Scotto said, "I can't believe these women really thought he was him. They don't really look alike."
Yeah, we can't either.
Possibly the women just really wanted it to be true or just went along with the concept for an all expenses paid holiday to Berkshire.
We won't really know until the show airs on May 27 at 8pm EST on Fox.
Is this just plain cruel or good TV? 
See More: 
Brit Binge Watching: True Life and Reality TV You Can View Online
The Top 5 British Reality TV Breakout Stars
Sir Elton John Chides Reality Talent TV, Calls Out 'Awful' Songwriters
Read More
Filed Under: