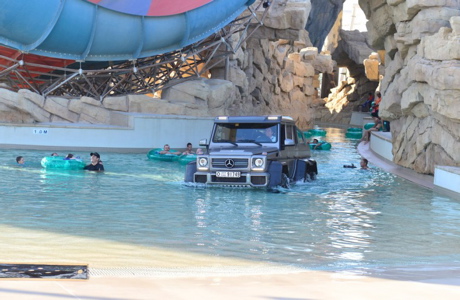 It's all over but the clowning. Jeremy Clarkson, Richard Hammond and James May got together on the last studio shoot of Season 21 to reflect on this series' highlights.
"I think this series has gone down jolly well," Clarkson said, adding that Chernobyl was the most amazing place he'd ever visited—and that the McLaren P1 the most amazing car he'd ever driven.
Top Gear also released another behind-the-scenes look at the two-part season finale, the Burma special. In the early days of the automobile, people were said to have yelled at passing motorists: "Get a horse." Well, our boys took that advice in Burma, with decidedly mixed results.
Here's the horse scene itself, from the Burma episode:
The boys had more success with their trucks, excuse us, lorries:
• A newspaper in Central Somerset in the U.K. is trying to sell a used car to Top Gear. A used, flooded, waterlogged car. It's not just any car, however. This particular Seat Toledo, which became trapped in rising floodwaters when its owner was driving home last Christmas Eve, has become a symbol of a area's battle with severe weather.
"This car has become the Excalibur in the Lake of Somerset," writes the Central Somerset Gazette in a plea to Top Gear. "Of all the footage shot, one image became a constant: this flooded Seat Toledo gently bobbing below the surface of the water."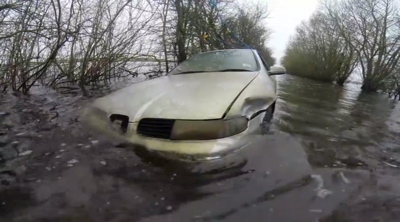 The car's owner had the idea of salvaging and auctioning off the 15-year-old car that he bought for £600 ($997) two years ago to raise money for relief efforts. When it was put on eBay, it fetched a £101,100 ($167,882) bid. Everyone was ecstatic—until it was discovered that the offer was a hoax, placed by a teenager as a prank.
That's when Bede MacGowan, editor of the Somerset Gazette, thought that Top Gear could help out. MacGowan wrote an open letter to the car show, which began: "Car fanatics that you are, I thought I'd highlight something special happening down here in Somerset that would help a lot of people, but is in danger of being wrecked by idiots." He wrote that when the bidding reached such high levels some people at the time thought Top Gear had already been involved.
"For that kind of price tag, everyone interested in the car suspected team Top Gear were behind it," wrote MacGowan. "Was May adding in some water protection and air supply before The Stig drove it into a lake?"
But once they found out that the teenager's prank bid put the auction in limbo, MacGowan suggested to Top Gear that it would be the perfect time to step in: "It would be heartening to think that eBay's loss would be a gain both for you and for charity," he wrote.
•  "I don't ever make jokes about women drivers," Richard Hammond told the Radio Times. Half of Top Gear's audience is female, he points out and adds a personal anecdote to support his position: "I have always thought my wife is a far better driver than me."
Hammond discussed the idea of celebrity with the magazine. Often, he said, "overweight van drivers" point and make fun of "how short I am." But he says he just thinks: "I can't do much about that, but you're still fat."
He went on: "Still, it is gratifying sometimes to be recognized and to know that we make TV that people are watching. But I am still surprised when I talk to kids and a lot of them tell me they want to be famous—why?"
•  "Some say he owns seventeen belts, but is severely allergic to them all," writes TopGear.com. "All we know is The Stig's Teenage Cousin is now hopelessly addicted to our brand new 'Race The Stig' game, and one day hopes to beat his more famous relation." TopGear.com is writing of a new online ad for the game, and here it is:
•  Top Gear Live is going to Croatia, though no date has been set, reports Croatia Week. The site points to a Top Gear Live Croatia You Tube channel, with the following video on it:
•  And finally, another piece of international news: soon Korean petrolheads will be able to buy Top Gear Korea-themed clothing, including t-shirts, jeans, tracksuits and jackets, reports Asia Media Journal. The hosts of the Korean version of the show, Jinpyo Kim, Alex and Danny Ahn, appeared at the line's launch at a Korean department store. Top Gear Korea just ended its fifth season in January.
Americans can get "I am The Stig" t-shirts at BBC America's online shop.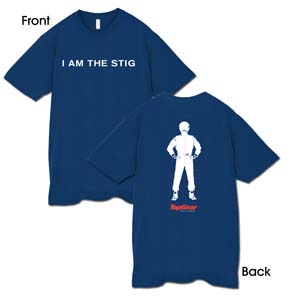 Read More
Filed Under: