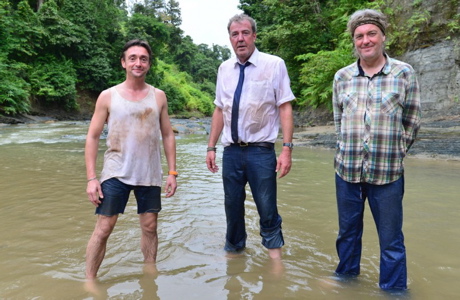 Like in the 1945 Errol Flynn movie, Top Gear's objective next week is Burma. In fact, the challenge is to recreate a scene from another World War II movie, The Bridge on the River Kwai. The show's trio are tasked with driving three trucks across Burma, a.k.a. Myanmar, to get to Thailand for the recreation itself in the first of two episodes of this year's Christmas special (yes, we know it's March—don't be so literal!).
The three trucks aren't just trucks—the hosts make Top Gear-style alterations to them so they become their own distinctive mobile homes. Jeremy Clarkson's convertible sport truck, writes the British website Caravan Times, "is a ludicrous and impractical creation, however his habitation area is by far the most appealing of the three, with a single bed, fly sheet, ebony wood flooring and even a reclining armchair."
Richard Hammond fits his truck with a rainwater-collecting shower.
James May, whose truck contains a hydraulic crane, attached a tent to the crane's hook. Which, says Caravan Times, "leaves him open to some cheeky midnight pranks."
Part one of the Burma Christmas special premiers this coming Monday, March 17, at 8:30p/7:30c on BBC AMERICA.
• Last weekend saw the return of the Top Gear Festival to Sydney. Among the famed stunts were Top Gear Live's patented "car bungee jumping."  Here's how festival organizers promoted the event:
And here's how one fan caught it on camera:
• Top Gear hosts Jeremy Clarkson and James May made getting to the Sydney Festival a challenge in itself. In an attempt to enliven their separate plane rides, Clarkson and May made their trips into a race, shown via Twitter.
Captain Slow admitted defeat early on.
I've lost. And my iPad battery is expiring. But the woman with the wine bottle is beautiful, so who cares? #RaceToSydney #Farewell

— James May (@MrJamesMay) March 5, 2014
Or did he?
Looks like I won after all… pic.twitter.com/Etjj5K2Trl

— James May (@MrJamesMay) March 5, 2014
Jeremy said he wouldn't wait for James at the airport.
To the victor the spoils. Taxi for @MrJamesMay pic.twitter.com/GjVNZdHW9t

— Jeremy Clarkson (@JeremyClarkson) March 5, 2014
I saved my special smug face for Mr Slowly's eventual arrival. pic.twitter.com/7JlrnBEzAg

— Jeremy Clarkson (@JeremyClarkson) March 6, 2014
• At the end of the festival, Jeremy and James made big plans for a wrap party—including a band—but attendance was underwhelming. The party's progress, like the race to Australia, was captured on Twitter:
Wait. A guest has arrived. pic.twitter.com/C0BUvzWWmB

— Jeremy Clarkson (@JeremyClarkson) March 9, 2014
My God. The world's biggest TV show knows how to rock pic.twitter.com/BYUR8f21Iz

— Jeremy Clarkson (@JeremyClarkson) March 9, 2014
• Also at the festival, Australian race car driver Daniel Ricciardo set a new speed record on the course, 1 minute 13.08 seconds, breaking the previous record set by Aussie compatriot Mark Webber.
"That was almost unbelievable," Jeremy Clarkson told Ricciardo, according to Australia's Daily Telegraph. "You climbed into a car you don't know, tires you don't understand, on a track you've never been to and took almost two seconds off the lap record. That was an astonishing time.''
• British actor Dominic Cooper "thinks he'd be brilliant on Top Gear," according to the Independent. Cooper is in Need for Speed, the new race movie based on a video game, which opens tomorrow. "Over coffee, he confesses that he's 'sure' he 'can do well on that race track,'" Cooper tells the Independent, which concludes: "It seems there is a boy-racer heart inside the man from Mamma Mia."
• And finally, Jeremy Clarkson's boyhood home is up for sale. It's a house that has a name, "Home Farm," located in the small town of Burghwallis in South Yorkshire. The Clarksons lived there in the 1970s. The Daily Mail writes that "picturesque Burghwallis is known for its peaceful countryside and farmland" but also points out: "Top Gear fans, beware—there's only ONE garage."
Still the house looks lovely, as you'll see on this video from the real estate broker:
See more:
The Stig Visits Your Smartphone, 'Breaking Bad' Star Visits 'Top Gear'
Top Gear Thursday: Hammond Drives 'Preposterous Machine' in Dubai, Appears on 'Phineas and Ferb'
Clarkson, May and Hammond Go to Ukraine
Read More
Filed Under: