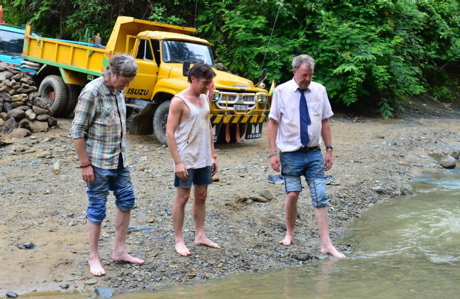 If you're at all familiar with the travel antics of Top Gear, you probably know that Jeremy Clarkson, Richard Hammond and James May aren't exactly David Lean-style heroes. (Clarkson of Arabia?) But that isn't stopping the three plucky hosts from trying to emulate the characters in Lean's World War II epic The Bridge on the River Kwai by, in fact, building a bridge on the River Kwai.
"We guarantee stunning scenery, much adversity, regular malfunction, and terrible shirts," the show promised.
That promise was first delivered on in this past Monday's show. Next week's promise will be fulfilled on Monday, March 24, at 8:30p/7:30c on BBC AMERICA.
Here's an "inside look" at the Burma special:
And for those of you who don't remember too much about The Bridge on the River Kwai, here's a short refresher:
Also, in this amusing clip, watch as the boys open up the liquor cabinet and imbibe Burma's local spirits. Hong Thong, anyone?
• Ever wonder how Top Gear goes all over the world, doing dangerous things in remote places? The answer is: lots and lots of preparation and pre-production. And much of that is done by "fixers," people in the movie biz who, as their name implies, make sure that everything works and that nothing is broken on location shoots. In the case of the Burma special, reports the British travel industry trade website Incentive Travel, Top Gear turned to the firms Asia Film Fixers (AFF) and Khiri Travel, which has a Myanmar office. Incentive Travel explained that the two companies "provided pre-production assistance, location scouting, permits, government liaison, location management, logistics, transportation, accommodation, catering, guides, translation, purchasing, and itinerary advice."
The fixers were able to get special permission from Myanmar's government for the show's drive between Taunggyi in Shan State and Tachileik on the Thai border.
"It may have been the first time foreigners have made that particular trip since World War II," suggests Incentive Travel.
"With AFF we're ready for more outlandish TV and film assignments in Southeast Asia," Khiri Travel CEO Willem Niemeijer said. "The crazier and more challenging the better."
The obvious question: what could be crazier and more challenging than Top Gear?
• By now, it's not news that Amy Macdonald is one of Top Gear's biggest fans. The Scottish singer was a Star in a Reasonably Priced Car last year, fulfilling one of her longtime dreams. In January, Macdonald showed up at Top Gear Live in Glasgow, where she gave a personal guided backstage tour of the place where all the supercars are kept, which, according to TopGear.com, is known as "the best garage in the world."
• Simon Cowell has bought what he calls "the most beautiful car in the world" after it appeared on Top Gear. The British celebrity TV producer just had to have the ultra-rare Eagle Speedster Jaguar, of which only three were made, each one by hand.
I think this may be the most beautiful car in the world. It's made by Eagle. Thank you Henry,Paul and the team. pic.twitter.com/evX73q1YBj

— Simon Cowell (@SimonCowell) March 17, 2014
Paul Brace, the technical director at Eagle whom Cowell praised in the above tweet, told Starpulse that "Simon got in touch after seeing it on Top Gear."
Read More
Filed Under: