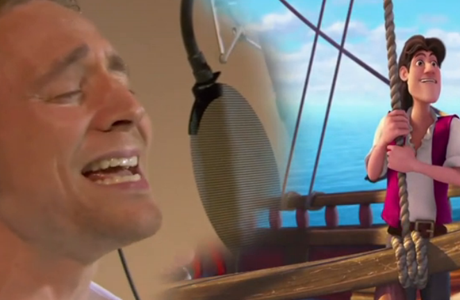 We've seen Tom Hiddleston sing and dance and even do impersonations, but it's usually impromptu and caught on camera by happenstance. This time around, he is in full-force, belting out the song, The Frigate That Flies, lending his voice to a young Captain Hook in Disney's The Pirate Fairy.
The Thor star sets up the scene for us explaining, "They're all kind of dreaming of the places they're going to pillage and plunder."
A young pirate has aspirations too. A frigate, which is mentioned in the title of the song, is a warship. Hook wants enough fairy dust to get his pirate ship up in the air.
Hiddleston talks about Hook as a young man saying, "Hook knows he's bad. He relishes being a pirate, having these kind of huge ambitions to steal and plunder. As a child you're partly afraid of him but you partly love him and you're like, 'Look at that man having so much fun, being him.'"
You can watch the performance below, split-screened against his character to give the full effect:
The Pirate Fairy hits theaters on April 1, 2014.
What did you think of his performance?
See More: 
Tom Hiddleston Wins Anglo Fan Favorites for Second Straight Year
Tom Hiddleston: "'Thor' Fans Think I Can Pole Dance"
Sneak Peek of Tom Hiddleston in 'Muppets Most Wanted' as Great Escapo
Read More
Filed Under: