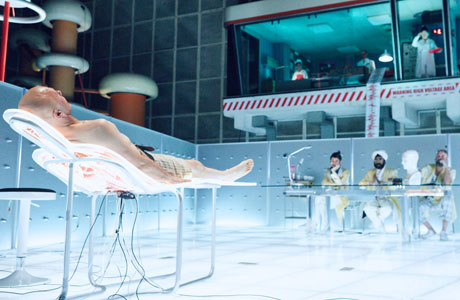 Director Terry Gilliam, American-born British citizen, debuted his feature length film The Zero Theorem at the Venice Film Festival in 2013. Amplify and Well Go USA Entertainment has picked up the film and it will hit U.S. theaters in late summer 2014, followed by a Video On Demand release, reports IndieWire.
Gilliam is an original member of Monty Python and has gone on to direct major motion pictures like Twelve Monkeys starring Bruce Willis, Madeleine Stowe and Brad Pitt.
His latest flick has the same futuristic "What are we doing here?"/"We need to do something different" feel as Twelve Monkeys. The Zero Theorem revolves around a computer hacker (Christopher Waltz) who is searching for the reason behind human existence. The problem is, Management (Matt Damon) puts him in charge of figuring out the meaning of life but keeps throwing distractions his way like a lost but lusty love interest (Mélanie Thierry). He gets his directions from Doctor 3 (Ben Whishaw). It's hard when you're pulled in so many directions, he finds some comfort from colleague Joby (David Thewlis) but you never know, he may be after his job? Tilda Swinton rounds out the cast as a computerized therapist.
In the trailer Waltz yells out, "Why would you want to prove that all is for nothing!?!" The people around him are quite content in living in a daydream world that seems real through technological advances. He doesn't want to settle and fights for the meaning he craves.
You can watch the trailer below:
Amplify's Kent Sanderson saying, "For all of us at Amplify and Well Go, it's an absolute dream to have the chance to work with a visionary like Terry."
Sanderson went to see Twelve Monkeys three times in the theater and is "incredibly excited to share his new take on society gone awry with the widest possible audience."
What did you think of the trailer? 
See More: 
WATCH: David Thewlis and Ben Whishaw in Terry Gilliam's 'The Zero Theorem'
WATCH: How Modern Movie Trailers Would Market Monty Python's 'Holy Grail'
WATCH: Harry Potter Actors Sum Up The Experience In One Word
Read More