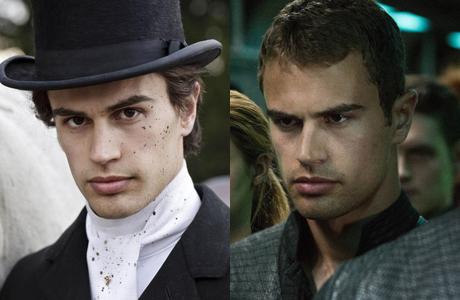 It has been a month since the final episode of Downton Abbey's latest season aired in the U.S. but that doesn't mean that all has been quiet on the Downton front. The show's fifth season is already filming in England and various cast members, including those both still on the show and some who've departed, are out and about making news.
One of the former cast members in the headlines is newly-minted British heartthrob Theo James, who stars in Divergent, the futuristic action movie that grabbed the No. 1 spot at the U.S. box office this past weekend, raking in $56 million. The Oxford-born James memorably played Kemal Pahmuk, the handsome Turkish diplomat who expired in Lady Mary's bed, during the popular show's first season.
While promoting Divergent on NBC's Today show late last week, James discussed his Downton role, joking that he was on screen for "about 5 minutes." He rarely is recognized by fans for the Pahmuk role, he told bubbly co-hosts Kathie Lee Gifford and Hoda Kotb. He speculated that that's because he wore a longhaired wig for the role. He then joked that he also "wore a wig on my chest, on my back and on my butt cheeks." You can watch the Today interview here.
In other Downton news:
Elizabeth McGovern, who plays Lady Cora on the show, shared her top 10 tips for acting with BBC. Her advice included "Learn your craft" and "Be emotionally strong." In expounding on one of her tips, "Be prepared to work hard," McGovern said, "I think for some reason people sometimes assume that Downton Abbey is just fun all the time, but it is a very difficult show to shoot. There is so little time to do what you would do in five times that amount of time in a normal film schedule. There are huge set pieces, with lots of people in them and it's very time consuming. It's definitely a grind to do and everybody feels it but it's worth it."
Nigel Harman, the actor who portrayed Green, the vile visiting valet who raped lady's maid Anna Bates during the most recent season of Downton, stars as a character based on TV and music producer Simon Cowell in, I Can't Sing!. The new British musical, which spoofs TV music competition shows such as Cowell's X Factor, Britain's Got Talent, Pop Idol and American Idol, opens on London's West End on Wednesday (March 26).
Here's Harman performing "Fabulous," a number from the show (warning: NSFW):
A new trailer for a British movie starring Ed Speleers, who plays hottie footman Jimmy Kent on Downton, has just come out. Called Plastic, the heist comedy is based on a true story about a group of young thieves. Speleers plays the leader of the criminal gang and his costars include Game of Thrones' Alfie Allen (brother to singer Lily Allen) and Once Upon a Time Wonderland's Emma Rigby. The film opens in the U.K. and Ireland on May 2. According to IMDB.com, it has yet to land a U.S. distributor.
You can watch the trailer below:
A recently released board game based on the show, is aptly titled Downton Abbey. Critic Keith Law, whose day job is as a baseball expert at ESPN, wrote, "This is the archetype of the brainless 'roll the dice, move your mice' style of board game that has fallen out of fashion in the last two-plus decades, since Klaus Teuber's Settlers of Catan triggered a shift in gamers' tastes. The Downton Abbey game calls for almost no decision-making on the part of the players, very little interaction between players, and no way to plan around the hazards on the board." He also complained that the show's "trademark wit" was missing from instruction cards and other aspects of the game.
 Want a really close-up look at the gowns and tailcoats worn by the characters on Downton Abbey? Travel to the Winterthur, an art museum in Wilmington, Del., where a lavish exhibition of costumes from the show is on display through Jan. 4. The exhibit includes Lady Mary's engagement dress and Lady Edith's wedding dress (for the wedding that didn't happen). Museum visitors can also pay extra to attend special Downton-themed brunches and teas.
How much are you missing Downton Abbey?
See More:
'Downton Abbey's Leading Ladies To Visit the Multiplex
Watch: Ellen DeGeneres Helps Minnie Driver Audition for 'Downton Abbey'
'Downton Abbey': Ten Predictions for Next Season
Read More
Filed Under: