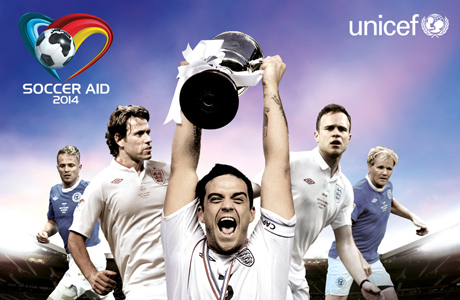 UNICEF U.K. Ambassador Robbie Williams' Soccer Aid returns for its fifth time on June 8, 2014. The event began in 2006 and takes place every two years with 2012's all-star match helping raise more than £2.5 million ($4.14m) for children in need.
The match will be between two teams—England vs. Rest of the World—taking place at Old Trafford stadium in Manchester, England. Williams will captain Team England and Welsh actor Michael Sheen will head Team Rest of the World.
A ridiculous amount of familiar faces will be coming out to compete including but not limited to Doctor Who's Matt Smith and Homeland's Damian Lewis. In addition to famous entertainers, soccer legends like Jamie Redknapp and Paul Ince will be hitting the field.
Here are the two teams as they stand so far:
TEAM ENGLAND
Robbie Williams (England captain)
Damian Lewis (Actor)
Olly Murs (Singer)
John Bishop (Comedian)
Jonathan Wilkes (TV Presenter)
Mark Owen (Singer)
Jack Whitehall (Comedian)
Stephen Moyer (Actor)
Matt Smith (Actor)
Paddy McGuinness (Comedian)
Ben Shephard (TV Presenter)
Bradley Walsh (Actor/Professional Futboler)
Jamie Theakston (TV & Radio Presenter)
Jamie Redknapp (Futbol Legend) 
Jamie Carragher (Futbol Lengend) 
Paul Ince (Futbol Legend) 
David Seaman (Futbol Legend) 
Teddy Sheringham (Futbol Legend)
TEAM REST OF THE WORLD
Wales Michael Sheen (Rest of the World Captain)
Scotland James McAvoy (Actor) 
Scotland Gordon Ramsay (Chef)
Northern Ireland Nicky Byrne (Singer)
Northern Ireland Patrick Kielty (Comedian)
United States Adam Richman (Actor and Host of Man vs. Food)
Netherlands Edwin van der Sar (Futbol Legend) 
Netherlands Jaap Stam (Futbol Legend)
Additional players may be added to the roster leading up to the match.
You can purchase tickets for the match here. The prices are reasonable, starting around £20 ($33).
You can watch last year's match in its entirety below:
We know it's for charity … but which team are you cheering for? 
See More:
Supersizing Soccer: What Britain's Premier League Could Learn From U.S. Sports Culture
Football vs. 'Soccer': A Translation Guide for Brits and Americans
Read More
Filed Under: