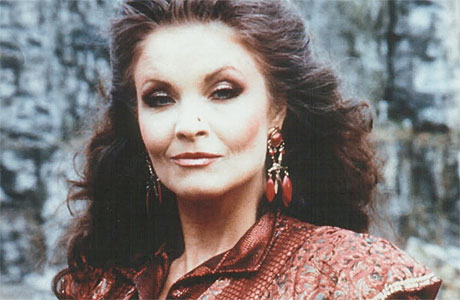 The sad news came in over the weekend that Kate O'Mara—the actress Doctor Who fans know as the Rani, and Dynasty fans remember as Caress Morrell—has died, after suffering from a short illness.
Her screen career, which began in the early 1960s saw her play a huge variety of roles, but she was most often called upon to play nasty, scheming women in powerful outfits who aren't afraid to fight dirty to get what they want.
Speaking last year about the possibility of a return to active service as the Rani, she told Digital Spy:
"If you put a much older woman in Doctor Who, they can identify with it. I think it's quite an interesting concept and if you remember things like Grimm's Fairytales, the older woman is often the villainess, often the terrifying figure – why I do not know, but often she is. I think it's an idea to be exploited."
Here are five of her most notable roles:
Doctor Who (1985)
Taking a slight break from being stone-faced and sexually predatory, Kate played the remarkably rotten Rani, a Time Lord scientist with no ethical boundaries whatsoever. She proved to be such a popular addition to the show that she returned several times, battling the Sixth Doctor in "The Mark of the Rani" and the Seventh, immediately post-regeneration in "Time of the Rani," and in the 1993 spoof episode "Dimensions in Time."
Absolutely Fabulous (1995)
https://www.youtube.com/watch?v=vLdlxUOim7Y
Another cameo appearance that proved to be so popular Kate made a return trip: she played Jackie Stone, the wayward sister of the even-more-wayward Patsy, and muse to Scott Walker.
Triangle (1981)
It is not without good reason that this attempted soap—depicting the hot 'n' steamy events on the cruise journey from Felixstowe to Gothenburg, Gothenburg to Amsterdam and then Amsterdam to Felixstowe, three locations for which the least appropriate words imaginable are 'hot' and 'steamy'—is legendary in British TV circles as one of the worst TV dramas ever made. This scene between Kate and Gavin & Stacey's Larry Lamb, for example, is almost entirely baffling, and not a little worrying, from the point of view of sexual politics.
Still, her hard vamp character is fully formed and ready for America.
Oh and speaking of vamps…
Vampire Lovers (1970)
http://youtu.be/sGz1ZquLi4c
A Hammer horror movie in which the sexy vampire lady Carmilla Karnstein targets rich and beautiful young women in the late 1800s, for the titillation of poor and un-handsome cinema-goers in the early '70s.
Of course, for some people, Kate would be forever associated with one show in particular:
Dynasty (1986)
https://www.youtube.com/watch?v=XHpgwzoCMes
Cassandra "Caress" Morrell is the classic Kate O'Mara character; machiavellian, smart, unafraid of punching below the belt and more than a match for her sister, Joan Collins' Alexis Colby.
See more: 
'Doctor Who' Rogues Gallery: The Mara
Some Absolutely Fabulous Quotes to Live By
Say It Ain't So: Krystle Whoops Alexis' Ass For Real!
Jennifer Saunders: 'The AbFab Movie IS Happening'
Read More
Filed Under: