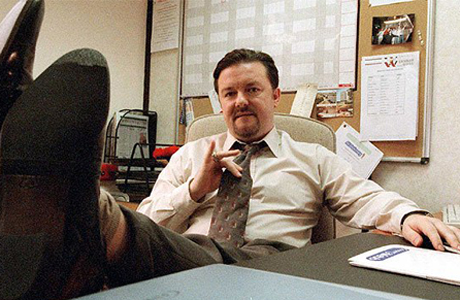 If you've been reading about Ricky Gervais and his seemingly constant need to resurrect his most famous creation David Brent, do not be fooled into thinking this is some act of career desperation on his part.
While the Learn Guitar With David Brent YouTube videos and the live tour may well have given his public profile a shot in the arm (although the new Muppets movie won't exactly hurt), there's an ulterior motive, namely to create a TV mockumentary of the tour from Brent's point of view, in which he—and his band Foregone Conclusion—finally appears to get the thing he so palpably wanted all this time, and what he does with it.
Speaking to the Sunday Times, Ricky said: "It's just an idea. I want to do a tour, a little tour – and people think they're seeing a tour. I film it, but actually it's Brent who thinks he's making a Scorsese-type thing of On The Road.
"Of course, behind the scenes, it is so much sadder and more poignant. It's [This Is] Spinal Tap meets sad Scorsese meets Anvil [: The Story of Anvil]. It's more of the breakdown of this man who thought he was going to be something else."
He also revealed that he's been waiting for the right time to resurrect his most famous creation: "The reason I didn't bring Brent back before is that I wanted to do lots of other things first, but secretly I do want to do something else. It has to be right, it has to be justified. It can't be an unwanted encore. It can't even be a wanted encore, because people don't know what they want."
Which begs the question: do you want this?
See more:
WATCH: David Brent Wants To Teach You The Guitar
Watch: Ricky Gervais Talks Up Muppet Movie and Rude Euphemisms (NSFW)
David Brent Confirms Performance Dates via Twitter
Ricky Gervais Planning 'David Brent' Movie?
Read More
Filed Under: