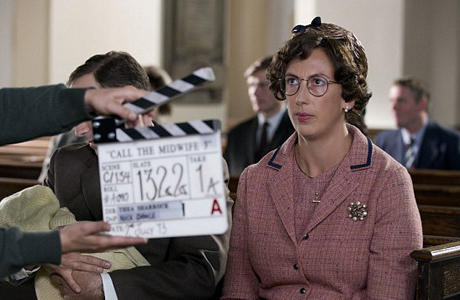 Call the Midwife, the British series about a group of nurse-midwives and nuns who help the poor in London's East End in the late 1950s, got off to a promising start with its season opener on PBS. There was even a royal visit.
The midwives and nuns are on the move as Season Three begins. Suitcases in hand, they depart their old, condemned-for-demolition residence and move with their belongings to new, more spacious digs. As they settle in, handyman Fred Buckle (Cliff Parisi) puts up the familiar Nonnatus House nameplate on their new home.
The gang is all there, minus Chummy Noakes (Miranda Hart), who now lives in an apartment with her policeman husband, Peter (Ben Caplan), and spends her days mothering their infant son, Fred (named after the handyman). With her characteristic energy and enthusiasm, Chummy is busily sewing, cooking and cleaning, as if determined to clinch the title for Best Housewife Ever.
Also gone from Nonnatus House is Sister Bernadette, who left the order to marry and move in with the kindly, widowed Dr. Patrick Turner (Stephen McGann) and his young son last season. Now called by her given name, Shelagh (Laura Main), she serves as the receptionist for Nonnatus House's healthcare clinic, which has been relocated to the community center this season. (Shelagh and Dr. Turner are trying to get pregnant, likely a continuing storyline this season.)
In Shelagh's place, a newcomer joins the Nonnatus House posse. Meet Sister Winifred (Victoria Yeates), who as yet displays no major discernable personality quirks. In her favor, she's quick to smile and doesn't cower in fright when gruff Sister Evangelina (Pam Ferris) barks at her.
Three major story lines dominate the episode. The first involves Jenny Lee (Jessica Raine), our first among equals of the young midwives. After delivering a baby in an early scene, she moves on to tend a young mother who is worried because both her infant son and his toddler brother seem to be ill much of the time. Jenny is concerned, both about the youngsters and their mother, who may be suffering from post-partum depression. She begins visiting regularly and consults with Dr. Turner about the case.
The second major plot thread focuses on Chummy and her excessive efforts at domestic perfection. Clearly, this is a woman with too much energy and skill to focus it all on making the most adorable sofa pillow. Fortunately, when Sister Julienne (Jenny Agutter), the head nun, complains about low attendance at the twice-weekly health clinic, Chummy swings into action. She begins recruiting neighborhood women and children to join various clubs—the flower-arranging club, the sewing club, a marching band—that she hastily founds and organizes, with all of them meeting at the community center.
The third story involves dotty Sister Monica Joan (Judy Parfitt), who is somewhat discombobulated over the move. Once settled at the new Nonnatus House, she becomes obsessed with organizing and shelving her large book collection. When Jenny mentions the ill baby and his brother, Sister Monica Joan begins babbling on about a similar case in one of her old books, a volume printed hundreds of years old.
And the royal visit? Say hello to Princess Margaret. She's planning to tour the East End. When Chummy hears of the princess's intended visit, she writes to invite HRH to drop by the clinic at the community center. "Princess Margaret is like royalty and a film star rolled into one," Chummy says of the then glamorous royal.
Princess Margaret accepts and the royal visit comes off without a hitch. Chummy, dressed in her frock and pillbox hat ("I look like my mother," she harrumphs as she gazes at her own image in the mirror), even gets to meet the chic princess.
While the princess is visiting the clinic, the ill baby about whom Jenny has been concerned is rushed to the hospital. Jenny turns out to have been right to be concerned about the baby and his young brother. Ditto for Sister Monica Joan, who has persuaded Dr. Turner, after he had run test after test on the lads without being able to determine a diagnosis, to read her dusty tome. Lo and behold, the boys have cystic fibrosis, whose symptoms were described in Sister Monica Joan's old book but did not yet have a name.
Good news. The boys can be treated though not cured and their parents are able to heave a sigh of relief. Jenny, Dr. Turner and Sister Monica Joan all exchange happy looks.
Chummy, meanwhile, is exhausted after all the preparations for and curtsying during Princess Margaret's visit. She nonetheless comes to the aid of a neighbor woman who goes into labor early. (None of the Nonnatus House midwives can get through in time due to traffic holdups related to the royal visit.)
After presiding solo over an extremely difficult delivery (just the sort of messy, miracle of life scene that Call the Midwife excels at depicting), Chummy realizes that she can combine midwifery and housewifery. At Sister Julianne's invitation, Chummy eagerly agrees to return to delivering babies two days a week.
As the episode ends, Chummy is dressed in her nurse's uniform and back at Nonnatus House. The phone rings. Chummy answers, saying, "Midwife speaking."
Final note: Did sharp-eyed viewers catch the scenes with mid-wife Trixie Franklin (Helen George) and Dr. Turner smoking? Let's hope they quit in a few years when news breaks about the health hazards of cigarettes.
What was your favorite part of the episode? 
Read More
Filed Under: