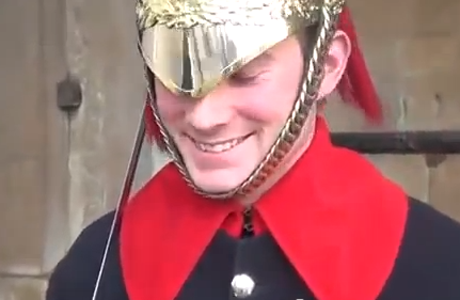 Many have tried and most have failed in tempting the Queen's Guards to break from their stern facade. But what if you went to school with one of the guards? It'd just be rude for him to ignore you.
A young group of men politely approach one of the Queen's Guards. The person filming announces, "You just can't touch him." Not touching should be assumed in all social instances but it doesn't hurt to have a friendly reminder. The cameraman's friend stands next to the guard and slyly says out of the corner of his mouth, "We're in this together," addressing the guard.
He then speaks directly to the camera explaining, "We were together in school, but he went his own way."
His friend behind the camera asks, "How long have you known this man."
The tourist answers, "30 years." He goes on to detail their life at school saying, "He was never talkative. He used to sit by himself and read books. I was just this guy fooling around and having fun. He was a sweetie. You'd ask him questions and he'd answer with his head."
The tourist acts it out by shaking his head yes and shaking his head no. He jokes around saying they'd ask the guard his name and as a boy the guard would shake his head in response. The tourist exclaims, "Shaking your head is not a name."
He goes on to talk about playing at recess and when it was time to go home the guard's mum would pick him up from school. Apparently the guard's mother picked him up from school until he was 20-years-old. And that's where it starts to crumble … creeeeack.
The Queen's Guard has a moment, which you can watch below:
The guard marches, shakes it off, and goes back to his post.
It's one thing for a tourist to step up and take a quick photograph, but it must be hard to stay in "character" when being filmed and everyone is standing around watching you. And, of course, knowing there's the chance that the video will most likely end up on the internet.
Hmm, maybe just start marching a little earlier if it happens again.
Poor guy, do you think the guard will get in trouble? We hope not!
See More:
Brit Binge Watching: If You Like 'Scandal' You May Like These Five British Shows Available to View Online
Infamous British Political Scandals: The Profumo Affair
Read More
Filed Under: