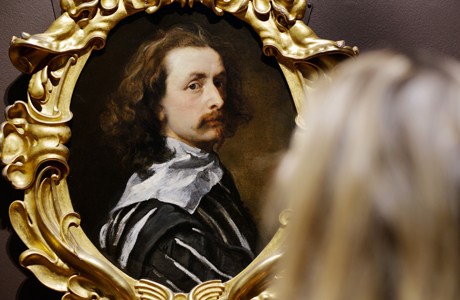 A British billionaire based in the U.S. has withdrawn his offer to buy a rare, 17th century self-portrait by court painter Sir Anthony Van Dyck (1599-1641). Businessman James Stunt's pullout paves the way for the impressive picture, one of only three self-portraits painted by Van Dyck during his time in England as the favorite painter of King Charles I, to be acquired by the National Portrait Gallery in London.
The NPG had already mounted a Save Van Dyck's Self-Portrait campaign in an attempt to raise £12.5 million ($20.76 million) to buy the portrait to add to its permanent collection. In the video below, NPG director Sandy Nairne explains the self-portrait's history and appeal to contemporary viewers:
Stunt's intended purchase of the painting through an auction house–the painting had been in private hands for centuries–became controversial late last year when the collector applied for an export license for the work. It was assumed that Stunt, who is wed to Formula One heiress Petra Ecclestone, planned to hang the painting on the wall of the expatriate couple's $85 million, sprawling mansion (built by TV producer Aaron Spelling) in Los Angeles.
Stunt withdrew his offer for the work yesterday (March 26) as it became evident that the National Portrait Gallery's campaign to purchase the Van Dyck and keep it in the U.K. was gaining steam, helped by a visit by Catherine, Duchess of Cambridge, to the NPG to view the portrait last month.
"When I agreed to buy this great portrait I didn't expect the huge swell of public opinion and the strength of emotion its export would generate," Stunt said in a statement reported by The Guardian. "In light of the people's passion to purchase the Van Dyck for the nation I have carefully reconsidered my position and have decided … to withdraw from the process."
Following Stunt's withdrawal, the price of the self-portrait, which the Flemish-born Van Dyck painted in 1640, just a year before his death, has been reduced to a more affordable £10 million ($16.6 million). "This new offer gives the Save Van Dyck campaign … an improved chance of ensuring that this great portrait remains on public display forever," the National Portrait Gallery crowed on its web site.
If you want to donate to the NPG's fundraising campaign to buy the Van Dyck self-portrait, click here.
Will you go see Van Dyck's self-portrait at the National Portrait Gallery the next time you're in London?
See More:
New Exhibit: Queen Victoria Strikes a Pose
The Art Everywhere Project Covers U.K.
Art World Pays Tribute To Lucian Freud
Read More
Filed Under: