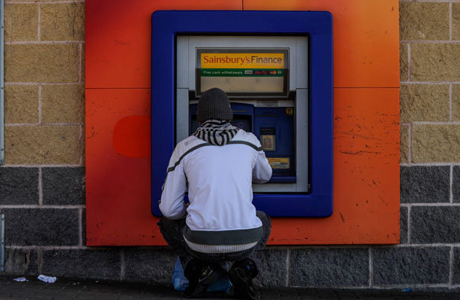 A visitor to Sainsbury's Bank in Nottingham, England posted a picture of an unusually low ATM to his Facebook page and it all kicked off from there, reports BBC News.
Facebook user Steve Drury, 27, wrote about the snap saying, "Strange place Nottingham, I couldn't believe it when I saw it. It was just so low to the ground, and a man using it was squatting to try and get his money out."
Drury went on with his commentary, "The poor guy must have done his back in. It was so low it looked incredibly uncomfortable. It was quite funny though, so I had to take a picture and put it up."
At first glance, it may be assumed the ATM's low height is intended for someone in a wheelchair, but a spokesman for World of Mobility, a local U.K. shop selling wheelchairs, said, "Our wheelchairs are 30 inches up from the ground to the seat."
Yahoo!'s Sean Keane summed up this quandary quite well in his video for Broken News here. Keane cheekily suggests maybe the bank being in Nottingham had something to do with the days of Robin Hood but his theory is weak.
The people at Sainsbury's had an explanation saying, "The ATM is located on a hill which cause it to be built so low to the ground."
Well, we use the word "explanation" loosely because that doesn't quite explain it.
Sainsbury's went on to address the situation saying, "We have never had any customer complaints about this but we are looking at a solution to relocate it."
This might be one of those cases when Britons are just too polite to say anything.
What's your theory on the lowest ATM ever?
See More:
The Bank of England Debates Going Plastic
Nationwide Sleepover to Raise £1 Million
10 American Bank Holidays Brits Should Know About
Read More
Filed Under: