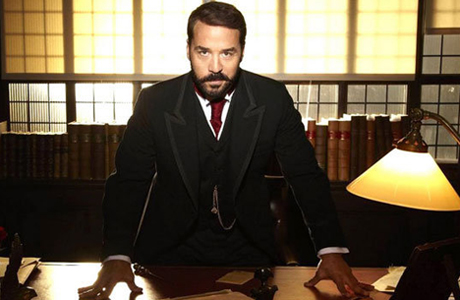 American actor Jeremy Piven stars as the title character in ITV's Mr. Selfridge, which airs on PBS in the U.S. The Entourage star appeared on Jimmy Kimmel Live! to talk about the second season of Mr. Selfridge, being a part of PBS and … oh, you know, other things.
Let's start out with the good stuff before it all goes downhill. Mr. Selfridge was renewed for a second season and it kicks off this Sunday on March 30. Okay, that's nice.
Piven is keen on PBS, giving the public broadcasting station praise saying, "I finally have street cred with my mother. The reality is, I grew up watching PBS. Now they have Downton Abbey and just brilliant, brilliant documentaries. It's an amazing place to be and I couldn't be more proud of the show."
Okay, that was nice too. He's still in our good graces.
Then things gets a little messy.
Piven goes on to describe a PBS event for both Mr. Selfridge and Sherlock, which took place here in the U.S. The two shows were scheduled to take part in a Q&A with TV critics, which they did, but apparently the presenter forgot to mention Piven was on stage and available for questions during the follow-up.
That sounds a bit odd, but we'll go with it.
Piven describes having this odd man out feeling saying, "I am standing there on the stage while hundreds of people made their way to Benedict Cumberf/@#."
Oh man, those are fighting words Ari.
We don't want to write out the curse word he used but you can read his lips in the video.
The thing is, Piven kept saying it and then continued to alternate the end of Benedict's surname with other inappropriate words. It was very cringeworthy and unnecessary. We don't even want to think what's going to happen when the Cumber Collective gets wind of this.
We understand Piven was a little embarrassed but he is an actor and comes from an improv background. Wouldn't it be easy enough to jump in there and say to the interviewers, "Hey guys. I'm here too."
He does follow up by complimenting Cumberbatch but it seems a bit too late and over the top saying, "By the way, he is a brilliant actor. And a true gentleman. And Sherlock is genius. And I'm a huge fan. And he'll never speak to me again."
Piven plays nice a bit but then calls him "Cumberslut" again. Ew.
He continues to tell his story, saying a woman had noticed Piven was alone on stage and approached him to ask him a question, which turned out to be an Entourage question unrelated to his character. Hmm, maybe that says something about the situation he found himself in.
He talked about being simultaneously "humbled" and "horrified" when lost in the shadow of Cumberbatch, but Piven should really leave self-deprecation to the experts … the Brits.
Do you think Jeremy Piven was playing around or plain out of line?
See More:
Benedict Cumberbatch Makes The Wish-List For 'Frozen 2′
Benedict Cumberbatch Discusses His Plans for 'Sherlock'
'Mr. Selfridge' Renewed for Second Season
Read More
Filed Under: